Githa
Hannah Davies
The Flanagan Collective
York Theatre Royal Studio
–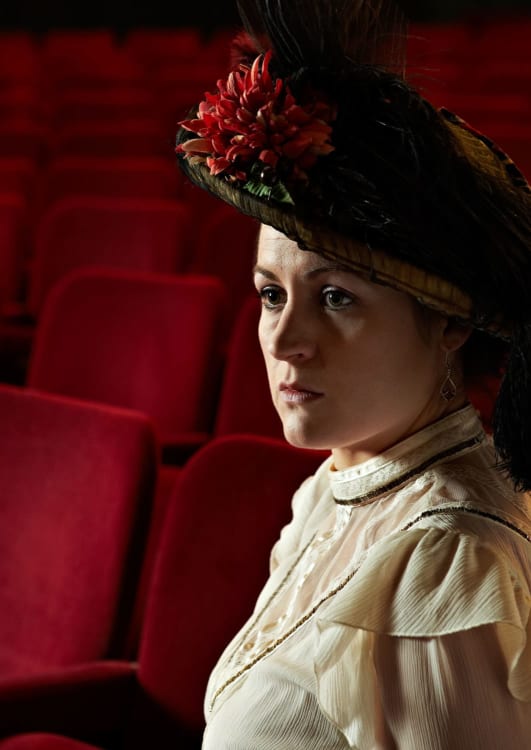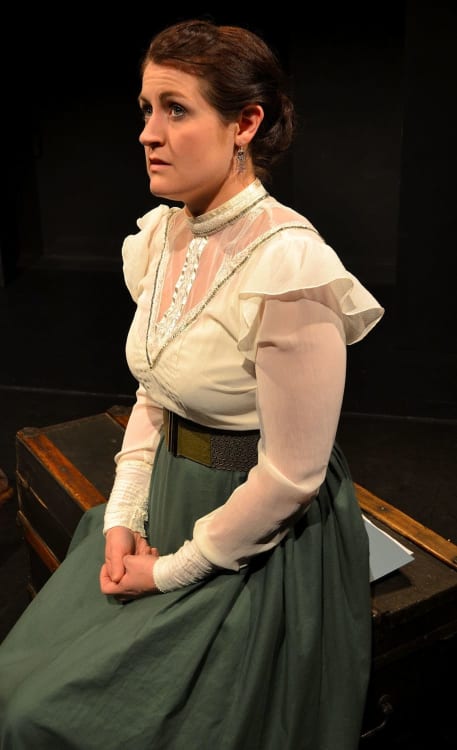 This one-woman show, written and performed by Hannah Davies, serves as a poignant and fascinating companion piece to the currently touring Rutherford & Son, which as Davies's play opens is also drawing crowds at York Theatre Royal, in the main house.
Githa was originally developed as an Edinburgh Fringe performance, to mark last year's centenary of the first performance of Katherine Githa Sowerby's most successful play. It tells the story of this children's writer who became a serious playwright with a social conscience, at a time when such business was mostly considered a man's work.
Davies's piece wittily conjures the sense of surprise and amusement at the prospect of a woman—of apparently good standing and breeding—writing a piece of insightful, up-to-the-minute social critique of the kind seen in Rutherford & Son.
The writing sews together incidents from Sowerby's life, beginning punchily in media res with a visit to a London publisher, armed with a portfolio of children's stories, and with her nervous illustrator sister Millicent by her side. Immediately we see the first glimpse of one of the strongest elements of the evening, as Davies's poised, upright Edwardian Githa gives way to a much more fluttery, nervy sister.
Throughout the performance, Davies introduces and embodies a number of memorable characters in this way: another sister, Marjorie, who is younger and, despite a disability which leaves her left arm useless, dreaming of marriage; an actress friend who chummily suggests Githa writes a play—with a little role for her, of course; the nosy and dubious landlady with whom Githa and Millicent lodge on arrival in London.
Each of these is economically and deftly sketched in a combination of crisply characterised writing and clear physical and vocal differentiation. By the end, at moments such as a tearful farewell between the three sisters, it is easy to forget that there is only one performer embodying all of the characters we see 'interacting'.
This skilful but unshowy craft is evidenced in both the writing and in Peter Darney's direction, along with Sherry Coenen's simple but evocative lighting design. As Davies switches character—for instance between a female speaker espousing economic and political equality from the lectern, and the shocked but intrigued Githa—the light similarly snaps, augmenting the sense of transformation. Jon Hughes's soundscape is rich and evocative, providing a constant atmospheric backdrop which further helps in generating a rich sense of place and time.
Drawing on Githa's biography, as well as archive material and meetings with Sowerby's daughter, Davies draws a fascinating picture of a woman both of and transcending her time. We see her find her match in John Kaye Kendall, an inveterately glib writer of flippant and satirical verse and plays who went by the pseudonym 'Dum-Dum'.
Together they make a 'curious' pair in the eyes of society, but the performance gives the overall impression that their sensibilities were well-attuned. 'I don't want you for my pet, I want you for my pal', he tells her: a sign of the degree of equality—intellectual, at least—that he accords her in the marriage.
Yet this is not a 'true love conquers all' story, and Githa retains a fierce independence which nonetheless stays rooted in her generation. She is intrigued by the idea that one day women might habitually wear trousers in public, but appalled at her husband's suggestion that she herself might wish to do so.
The play ends rather abruptly and leaves several biographical questions unanswered: after the success of Rutherford & Son, we are told that Githa suffers a series of lukewarm responses to her follow-ups, but we don't see whether she manages to balance her writing with the impending arrival of her daughter. When we leave her, her future prospects are uncertain, as are those of Dum-Dum, called away to war.
But the real question which Davies is probing here is that asked a number of times during the course of the evening: what spurs me to write? Githa makes several attempts at answering this, and though the final note of the play is perhaps not a definitive response, the process of finding our way there is worthwhile.
As both an interesting insight into a hitherto much overlooked playwright and a celebration of the joys of simple, lively storytelling, this is an evening to recommend.
Reviewer: Mark Smith