Giulio Cesare
Music: George Frideric Handel; Libretto: Nicola Francesco Haym (after Giacomo Francesco Bussani)
Opera North
The Lowry (Lyric Theatre)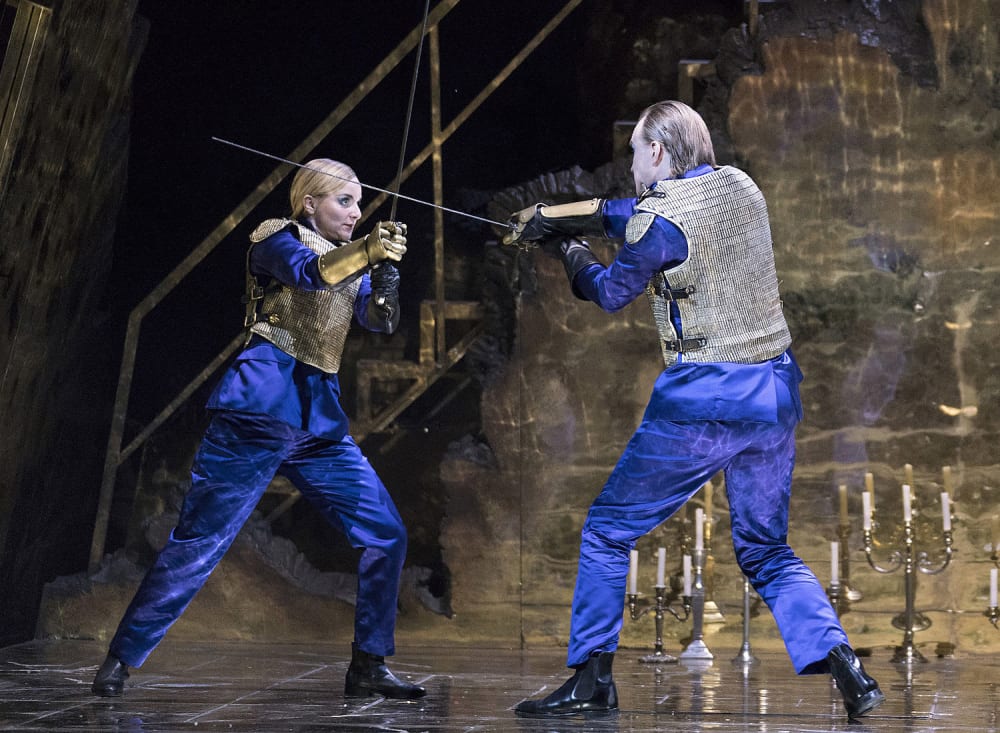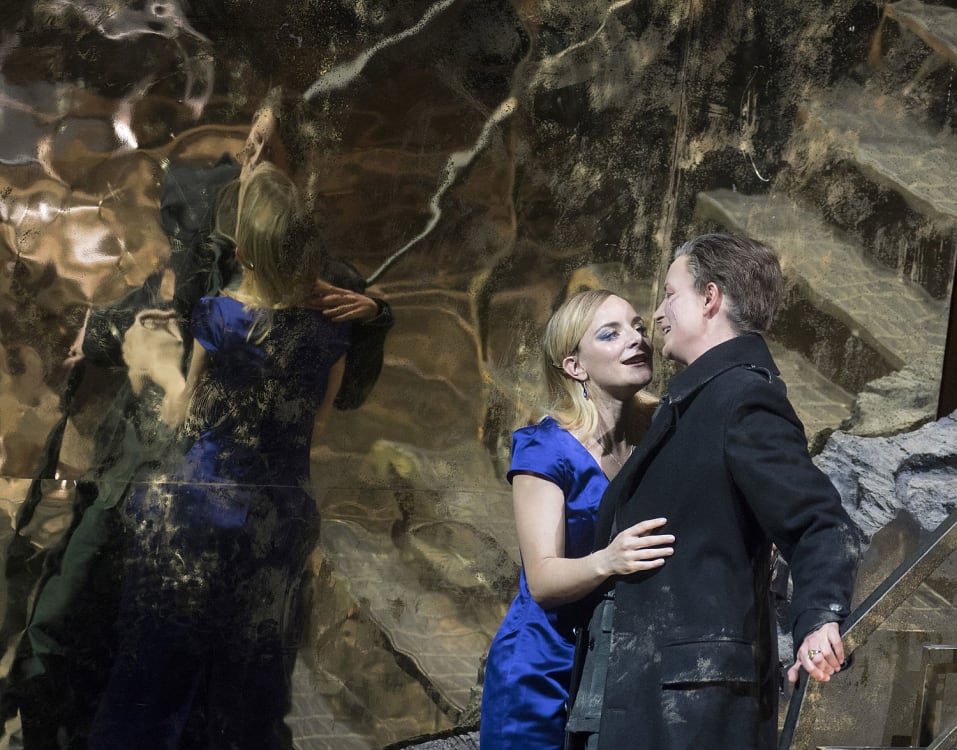 There are times in this production of Handel's Giulio Cesare—mainly pre-interval—when it feels the audience are being taken on a route march, an endurance test, one strictly for the enthusiast.
This is not the fault of the singers—many of whom give admirable performances—certainly not of the excellent orchestra, nor even of director Tim Albery (who has mounted some of my favourite ON productions in recent seasons—such as last year's Katya Kabanova). A little blame might fall at the feet of designer Leslie Travers, but only a morsel for an otherwise eye-delighting and flexible set. Most of the 'blame'—pauses to don flak-jacket and stab vest—lies with the composer.
Handel's da capo style, with its convention of starting again 'from the top', can seem a little disconcerting (even, forgive me, long-winded) to opera fans weened on Puccini (whose arias are often like shameless flirts, up and away with wave and a cheeky wink, while we're just closing our eyes and puckering up our lips).
If you're a lover of Handel's music, of course, this allows plenty of time to wallow and enjoy (bring a packed lunch, if you like). For a modern director and his cast, it causes problems: how to fill the space with action, gesture, expression (whilst avoiding hesitation, deviation, or repetition). As a result, even a gifted director like Alberry struggles to resist the inherently static nature of the piece.
Albery tries his best. The treacherous murder of the noble Pompeo is brought onstage in the overture (note to fellow punters: this is not your local multiplex; when the music strikes up, it isn't Pearl & Dean, so pipe down!).
Pompeo's young son, Sesto (sung with so deliciously by Heather Lowe she almost rescues the first half single-handedly), swears to kill King Tolemeo, whose lackey Achilla (very ably sung and characterised by Darren Jeffery) plotted his father's assassination.
"It's not time for tears but for vengeance."
Cesare, meanwhile, repulsed by Tolemeo's gift of the body of his rival, also sets out to teach the barbaric King Tolemeo a lesson, being charmed along the way by Lydia (actually Cleopatra in disguise). Cleopatra / Lydia (Lucie Chartin) is a delectable blonde (well, why not? She's descended from Alexander and he was blond—ask Brad Pitt).
Unabashed by the fact he's arranged the murder of her husband, Achilla falls for Cornelia's beauty and asks Tolemeo to allow him to marry her (her own objections notwithstanding) provided he also succeeds in despatching Cesare (who dared insult the Egyptian king by spurning his gift of Pompeo's corpse). The slimey king, sporting long golden talons, who seems eager to have sex with anything with a pulse, has his own designs on Cornelia, threatening to take her by force if she does not comply.
Having (mildly) criticised Leslie Travers's set for contributing (in its occasional configuration as a desert fortress) to the static nature of the production, I must also credit it for being virtually the star turn of the first half. It turns and morphs into the gold-panelled interior of the royal palace (including a rather demure water feature) which glitters and shimmers to grand effect while Cleopatra takes her… footbath (the mere sight of Cleo removing her stockings all but overwhelms the peeking Cesare).
All seems to be headed for disaster when word spreads that Cesare, attempting to escape the plot against him, has drowned.
After the interval, Travers's set swings and evolves into a battleground where Cleopatra and her brother / husband engage in combat (spoiler: he wins). Now, at last, the singers have a chance to shine and Chartin's Cleopatra wins our hearts with her declarations of love and loss. Even the brutal Tolemeo shows another side, addressing Cornelia as "the heart of my heart".
It won't save him, though, for Cesare (for it is he—well, she—contralto Maria Sanner) has not drowned and, with the moribund assistance of the turncoat Achilla, young Sesto takes his revenge.
Exit Tolemeo, hanging upside down (literally) from the battlements.
With villains dead and Cesare and Cleopatra declaring their undying love, it's time for her to take the throne (Cesare's gift to her).
Tolemeo's golden talons (picture a vicious royal ancestor of Edward Scissorhands) are, according to the programme notes, meant to symbolise his sadism. All well and good, were it not that, in the finale, Cesare attaches these same royal weapons to the delicate fingers of his beloved Cleopatra (perhaps he's hoping for a little S&M before sailing home to Calpurnia? I have heard powerful men have a taste for such things…)
By the finale, we are won over and rousing ovations are wisely granted to all, but in particular to Chartin, Lowe, James Laing (Tolemeo), Jeffery and conductor Christian Curnyn.
It must be conceded (good of me, I know) that the challenges of the evening are not even the 'fault' of the composer. It's simply that Handel's work was written for much more intimate spaces than the 1,200-seater Lyric Theatre here at The Lowry. Gifted contralto Sanner suffers more than most in this and deserves respect for all she achieves here.
Note: due to Catherine Hopper's illness, Amy J Payne stepped into the role of Cornelia, understudying to great effect and well-deserving of the special ovation she was granted at curtain call.
Reviewer: Martin Thomasson