Glaspell Shorts
Three short plays by Susan Glaspell
Orange Tree, Richmond upon Thames
(2008)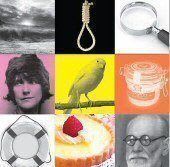 Half-way through a successful Orange Tree run of Susan Glaspell's Chains of Dew, its cast members take a breather with three earlier pieces by this pioneer playwright whose work was overshadowed by her more famous Provincetown contemporary Eugene O'Neill.
Glaspell's first play and perhaps her masterpiece was Trifles, a one-act murder mystery written in 1916 when she was reporting crime for a local newspaper.
John Wright was a tough Iowa farmer whose icy greeting could cut through you like a chill wind. Now he lies dead, throttled in bed by his own rope, while his wife Minnie is being held as chief suspect.
The play opens as the sheriff (Alister Cameron) and the briskly efficient County Attorney, given convincing authority by Gwynfor Jones, arrive at the bleak farmhouse to interrogate a witness (Charles Daish) and to investigate the domestic background to the killing.
While the lawmen roam the house in a noisy hunt for clues, the sheriff's wife (Helen Ryan) and a neighbour (Nancy Crane) collect a few trifles to comfort poor Minnie in jail. But when the women discover damning evidence among the simple household artefacts they conceal it in an act of sisterly complicity.
Helen Leblique's staging makes brilliant use of sound effects including creaking floorboards from above to heighten the tension, while the text of Trifles reflects Glaspell's journalistic economy with words, anatomising the tragedy of an unhappy marriage in a few terse lines of dialogue spoken with depth of feeling by the two women.
Glaspell's second play The Outside is set in a former lifesaving station on the outside shore of Cape Cod. This elbow of sand dunes and beach grass — nicely suggested in Tim Meacock's stark setting — shelters Provincetown from the Atlantic, close to where she and O'Neill established the Provincetown Players as a cradle of modern American drama.
Her 30-minute drama, not fully realised in Svetlana Dimcovic's sometimes obscure staging, is a distilled essence of the life of two women occupying the house. It was first performed in 1917 in the same summer season as O'Neill's Long Voyage Home and it shares a similar theme of a returning sailor.
Lisa Armytage, in a role first taken by the author, plays the woebegone servant Allie Mayo, once a happy-go-lucky bride who has waited more than twenty years in virtual silence for the return of her seafaring husband. Now what may be his dead body is stretched out on her employer's porch, while the lifesaving crew who snatched him from the sea go in search of a stretcher.
In the moments that follow she opens her heart to Mrs Patrick (Katie McGuinness), a wealthy young New Yorker who has turned her back on civilisation. The polarised relationship of the two women is echoed by Alister Cameron as the bluff, tough lifesaver, Gwynfor Jones as his laconic colleague and Charles Daish as their bemused helper sneering at the womenfolk.
The final short play, the thirty-minute comedy Suppressed Desires, was co-written in 1915 with Glaspell's husband George Cram Cook, a deliciously amusing exploration of the domestic dangers of psychoanalysis, sharply directed by Phoebe Barran.
It would spoil the fun to give the plot away. But I am happy to reveal that the superstars of Chains of Dew are again joined in romantic comedy: the dynamic Ruth Everett as an eager proselytiser of Sigmund Freud's techniques and the superbly laid-back David Annen as her droll but long-suffering architect husband.
They deliver beautifully observed performances of such verve and wit that they recall the best of 1930s Hollywood comedy, while Pia de Keyser as a sisterly visitor, does a lovely turn as the girl in the middle.
"Glaspell Shorts" runs from 7 to 19 April. "Chains of Dew" continues until 26 April 2008
Reviewer: John Thaxter