Through a Glass Darkly
Ingmar Bergman, adapted by Jenny Worton
Almeida Theatre
(2010)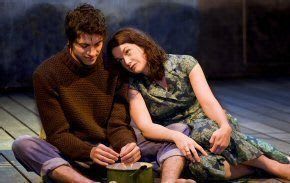 Jenny Worton's stage adaptation of Bergman's dark psychological drama is somewhere on a line between Ibsen and Festen, two Almeida favourites.
The first sign of things to come is Tom Scutt's set, which comprises washed-out shades of grey. This is the "holiday island paradise" location for a fated family reunion from which no good can ever come.
The central character is Karin, a seemingly happy, highly intelligent young wife played with absolute veracity by TV's Jane Eyre, Ruth Wilson, under the direction of Michael Attenborough. The laid back surface hides a secret, as the pretty holidaymaker suffers from an unnamed, hereditary illness that has already claimed her mother and threatens her own sanity.
The symptoms are not pleasant. Karin shows signs of being a manic depressive and has religious crucifixion visions so convincing that the real world becomes no more likely than her imaginary one.
If it were merely a portrait of a soul in torment, this would be hard enough to take, but Ingmar Bergman then shows the effect that her condition has on Karin's family.
Her weak-willed novelist father seems to have spent most of his life in escapist denial. Ian McElhinney makes it clear that David is a lily-livered man but, even so, he is one of the most important port of call as Karin weathers her storms.
It is the other two characters who are most wronged. Justin Salinger plays Karin's doctor husband, Martin. This character, who was presumably at least partly modelled on Bergman himself, is kindness personified but as such receives the worst of the abuse, since this illness not so much talks as shouts.
Finally, there is Dimitri Leonidas looking rather too old as repressed 16-year-old kid brother Maxie. He has to try to come to terms with his own teen problems, an unloving father and sexual insecurity, at the same time as attempting to handle his sister's unpredictable needs and wild mood swings.
Even for those that have never seen the film, the ending of this highly intense 90 minutes may be inevitable from the start but still shocks.
Through a Glass Darkly does not make for comfortable viewing. With the knowledge that the story is based on Ingmar Bergman's own marriage, this dark 90 minute long play takes on a chilling relevance for anyone interested in deep psychological problems and their impact on loved ones. It is also to be commended for showcasing Ruth Wilson's undoubted stage talent, most recently seen when she played opposite the award-winning Rachel Weisz in A Streetcar Named Desire at the Donmar.
Playing until 31 July
Reviewer: Philip Fisher