Glass Eels
Nell Leyshon
Hampstead Theatre
(2007)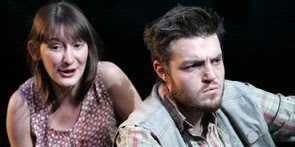 Nell Leyshon is fast becoming the playwright of slow inarticulacy. Her first play, Comfort Me with Apples, earned her a Most Promising Playwright Award from the Evening Standard.
Like Glass Eels, that was also set in the West Country and dealt with small issues amongst deprived rural folk.
This 90-minute long coming of age drama has the slow tempo of Don't Look Now, the adaptation of Daphne Du Maurier's short story that like both original plays was directed by Lucy Bailey.
The central character is Lily, a troubled girl played with great feeling by Laura Elphinstone. Death runs in her family, grumpy grandfather Harold played by Tom Georgeson was an undertaker and father Phillip Joseph as Mervyn has it in his blood too.
Lily acts as skivvy to them both, under unofficial house arrest and not even allowed to talk about the mother who died when she was a child, though she is little more now.
Her only outlet is secretive trips to the river where she meets Tom Burke's Kenneth. Even by these standards, he is quiet, hardly willing to string a word together.
However, he builds up an empathy with the girl young enough to be his daughter, even if no great love is apparent.
Very gradually, partly thanks to the appearance of Mervyn's new girlfriend Julie (Diane Beck), the family starts to talk and head for much-needed catharsis.
Much of the talk is of eels, which may be symbolic, and one of the poor things is skinned and gutted onstage. They, like Lily are attracted to the river, beautifully realised in Mike Britton's subtle design. This features several playing areas that are gently attacked by the river growing from the front.
The claustrophobia of a hot summer (I wish) is also well conveyed courtesy of a sloping mirror that bears down on the basic family home.
By the end, we are somewhere near catharsis, as Julie relieves Mervyn of his burden of guilt and that frees Lily from her bondage to have a dart at happiness with Kenneth.
This slice of backwoods Somerset life is most worth seeing for fine performances from Tom Georgeson, Tom Burke and especially Laura Elphinstone, who does seem to be getting typecast in morbid roles, coming to this play with a CV already boasting Scenes from an Execution and Breathing Corpses.
Glass Eels tells a simple tale of ordinary folk without any great drama. It might be described as an example of the poetry of the inarticulate, with not a lot said and action averted. What it does have to offer is a great deal of is suppressed passion and deep unhappiness. But that doesn't necessarily make for the most enjoyable evening out.
Reviewer: Philip Fisher