Glimmer of a Rainbow
Aoife Fagan
Aoife Fagan with Unmuted Participants
C ARTS | C venues | C digital
From

Listing details and ticket info...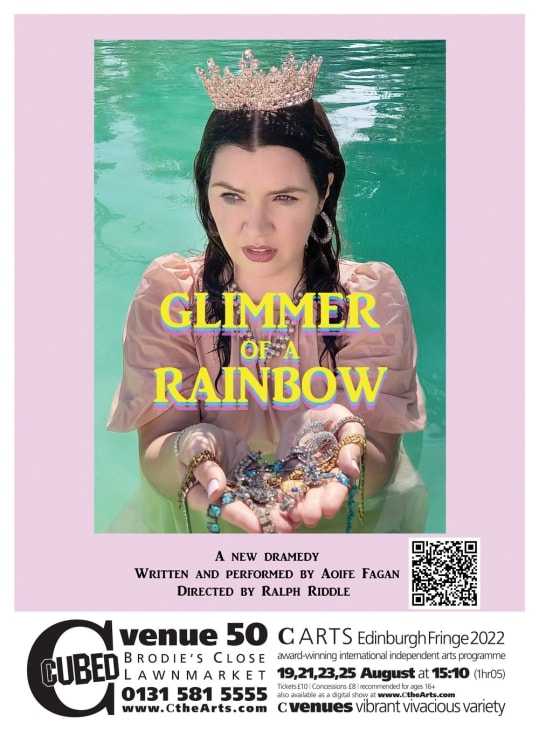 Orla (author and sole performer Aoife Fagan) knows how to tell the difference between a manufactured rhinestone and a genuine gemstone created by the passage of water on glass for a period of years. For one thing, the latter, when held to the light, gives off a Glimmer of a Rainbow. Orla, resting actor, works in a vintage jewellery store and knows how anything, ivory, tortoiseshell, human teeth, can be turned into jewellery. She is, therefore, constantly baffled by the arbitrary way the value of objects is determined and how beauty is measured.
Glimmer of a Rainbow is an intimate play; the tone is not so much a monologue, more of a gossip over a garden fence. Orla is forced into introspection as haggling with visas and work permits has put her romantic relationship into long-distance status, so she has time to think. Filmed in her front room, Orla regularly leans forward into the camera as if to let the viewer in on a particularly juicy secret.
With low self-esteem, Orla is keenly aware of her own value or lack thereof. She is scolded at ballet class for being heavier than the norm and constantly judged by casting directors and her highly-strung and erratic employer. Orla is puzzled to be considered somehow exceptional for being intelligent and well-behaved despite being born in an area, she discovers, which is considered to be deprived. Orla innocently thought it was handy for both town and the countryside.
Although unhappy at being judged by others, Orla is frustrated by the attitude of her mother, forgiving a neighbour who fails to show gratitude for, and is sneering dismissive of, a tremendous favour. The neighbour justifying her attitude by looking down on the low social status of Orla's family. Yet human nature is such Orla herself is too shy to strike up a conversation upon encountering one of the 'cool kids' from school or to exploit the opportunity to tell home truths to her bullying boss.
Although featuring issues which arise on a daily basis so as to seem almost mundane, Orla's concerns are universal. The puzzling way beauty is determined and the submissive willingness of people to accept injustice and conform to accepted ways of behaviour. Orla's fury at a final act of betrayal by a family member is not just about the act itself but that other people do not share her outrage.
Aoife Fagan has created an appealing protagonist and Orla's concerns are presented in a low-key, chatty manner rather than an alienating rant, making it easy to share her confusion and frustration. Glimmer of a Rainbow is the real deal, not a fake.
Reviewer: David Cunningham