Helen
Euripides, in a new version by Frank McGuinness
Shakespeare's Globe
(2009)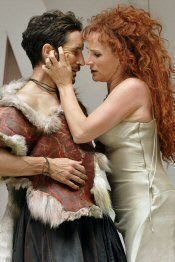 Shakespeare got it so wrong. His version of Helen of Troy's experiences as related in Troilus and Cressida could hardly be further from the truth, if one believes Penny Downie's brave, literally self-denying Helen of Egypt.
The flame-haired beauty is marooned in a country, represented with some style by designer Gideon Davey who adorns the stage with a black lava flow mound festooned with Egyptian iconography.
There the heroine tells a whole new story packed with tragicomic wit. Was there a doppelgänger at Troy while she charmed the dumb pharaonic Theoclymenes played by Rawiri Paratene? The more plausible alternative is that Helen is fibbing for all that she is worth, in an effort to justify the horrors perpetrated in her name.
A real shock comes over the horizon, following a chorus of (primarily masculine) Greek women, in the weary shape of Paul McGann playing her husband Menelaus, the man who razed Troy to the ground in the name of his unfaithful spouse.
In Deborah Bruce's lively 90-minute production, jokes are never far from the surface, especially when Miss Downie is ruling the stage. Her dry wit, courtesy of a feisty modern language interpretation from Frank McGuinness, is allowed free rein and the actress makes the most of her opportunities prior to a truly tongue-in-cheek finale as a pair of swan-winged Deus Ex Machina siblings fly in to amuse.
The style is pure comedy, with only occasional moments of pathos, and Paratene is in danger of slipping into a Carry On routine when his King is thwarted in a sting that a child of seven would have seen through.
The fine ensemble acting behind Miss Downie is complemented by a modern score from Claire van Kampen, which mixes jazz with Philip Glass style minimalist song delivered both by the seven-strong chorus and, unusually for a stage production, a fine countertenor, William Purefoy
Helen represents really brave Globe programming by Dominic Dromgoole and with its balance of humour with a classical theme, deserves to be a roaring success.
Reviewer: Philip Fisher