Henry IV Part 1
William Shakespeare
Shakespeare's Globe
(2010)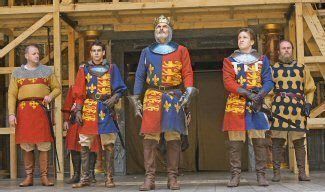 Dominic Dromgoole should have a big hit on his hands with this start of Shakespeare's relatively unfashionable, two part History Play. That is thanks in part to a very canny piece of casting but also to an overall vision that gets just about everything right.
His backstage team do a good job, starting with the heraldic and more prosaic banners, created by designer Jonathan Fensom, that surround the playing space and set the scene, aided by period costumes and folk songs, plus of course the acting.
Dromgoole's productions at Shakespeare's Globe are generally characterised by his ability to wring every comic opportunity out of the Bard's text, including some that one suspects even the playwright wasn't aware of. This is always a good starting point for audiences there for the experience rather than the play. He does so again here, making the production a real pleasure to witness.
The Artistic Director gets great assistance from the marvellously versatile and supremely talented Roger Allam. The part of the shaggy, disreputable knight Sir John Falstaff could have been written for him but then so could Willy Brandt in Democracy and, one would wager having only seen Douglas Hodge, Albin in La Cage Aux Folles.
That ability to transform is what makes someone a great actor and, in this role, Allam lives up to that billing, instantly having the audience eating out of his hand and keeping them there for three hours, ably supported by his cohorts.
Allam is so good that spontaneous applause becomes a habit, reaching its peak as the drunken coward boasts of his bravery when faced by an ever-expanding but in reality non-existent horde of thieves.
The strong casting goes far beyond the roguish knight. His companion and foil, Prince Hal is played by former History Boy Jamie Parker, who after an appropriately bawdy arrival with breeches adorning ankles, brings lightness to balance Falstaff's weightiness.
The actor does more than merely have fun. He also achieves the tricky transition from young wastrel to noble prince effortlessly. So well is he suited to the part that the next time that play is revived, he should be first choice for Henry V.
The silvery Oliver Cotton, who is also now a West End playwright having seen Wet Weather Cover transfer from the King's Head, takes the title role making Henry suitably choleric, not to mention asthmatic.
From the other faction, Sam Crane is a somewhat lightweight but brave Harry Hotspur, leading the rebellious Percys into a battle excellently orchestrated by Philip d'Orleans. This was so convincing that some groundlings were hopping around to evade energetic but always controlled swordsmen.
Amongst the support, William Gaunt as dignified Worcester and Paul Rider playing the lugubrious but always dryly hilarious Bardolph stand out.
The mark of a good production of this play is a balance between the rowdy inn scenes and the formal affairs of state. It is pleasing to be able to report that each is strong, whetting the appetite for Part 2, which has a lot to live up to.
Playing until 2 October
Philip also reviewed Henry IV Part 2
Reviewer: Philip Fisher