The Merchant of Venice
William Shakespeare
Shakespeare's Globe
(2007)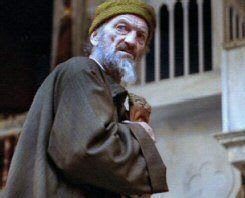 The way things are going, superstitious actors at the Globe may soon be referring to "The Italian Play" and shushing colleagues if merchants or watery Italian cities are mentioned within the theatre's environs.
The original press night of The Merchant of Venice was cancelled at the last minute after Portia number one, Michelle Duncan, became indisposed. Apparently at what was to have been the final preview, Kirsty Besterman simultaneously played Portia and Nerissa reading from the script. This cannot have been easy for anyone, especially as the pair spend so much time on stage together.
Unbelievably, by the end of the second press night, as well as a new Portia and Nerissa, Mark Rice-Oxley, who had been a really witty Gratiano in the early scenes, was ailing with a stomach bug and had to be replaced by another actor on the book.
In this unfortunate context, it is not easy to review Rebecca Gatward's literally ill-fated production.
Designer Liz Cooke creates a suitably Venetian feel, adding a Rialto bridge to the set. She also delivers a particularly beautiful and amusing casket scene, illuminated by the superb Christopher Obi. He makes Morocco an arrogant pugilist and on this occasion a far worthier husband for noble Portia than the one she ends up with.
The costumes are a kind of fusion as Jacobean mixes with Rude Boy to create a contemporary impression to which the modern body language puts finishing touches.
The major players are generally unimposing. Ginger-haired Philip Cumbus as Bassanio is passionate but rather lightweight and it is hard to believe that this joker would have chosen a lead casket over something flashier.
His best friend Antonio (Dale Rapley) is maudlin to the extent that even good news makes little effect on him. John McEnery makes Shylock look gnome-like and has little of the Jew about him. By being unemotional, he does engage the audience's sympathy as, after he loses his daughter and his ducats to a Gentile, the disappointed outcast seeks revenge.
The second half changed in tone after the departure of Mark Rice-Oxley. Fascinatingly, he was replaced by our clownish Launcelot Gobbo, Craig Gazey. He overacted his new part even more than the old and injected great comedy, taken up by his fellows but at the cost of pathos. This could become a new way to play The M of V but would need rather more rehearsal.
Similarly, Kirsty Besterman, now just playing Portia and Jennifer Kidd as Nerissa have bravely taken major parts with less than a fortnight's preparation. They still need longer to get into the roles, though they are clearly having fun especially when cross-dressing.
This unusual evening gave the viewers many laughs and we must hope that things will now settle down for the remainder of the run.
Reviewer: Philip Fisher