A New World
Trevor Griffiths
Shakespeare's Globe
(2009)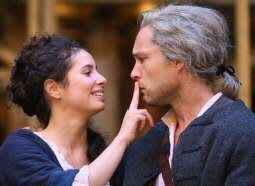 For his latest modern response to Shakespeare, Dominic Dromgoole has commissioned the experienced Trevor Griffiths to write a three-hour long sweeping biographical work about Thomas Paine.
John Light plays a man remembered today as the author of a number of seminal political/philosophical works such as The Rights of Man and The Age of Reason.
As fleshed out in Dromgoole's epic production, Paine comes across as not only an audacious speaker and a strong-willed humanist but most of all a man who helped to fire up two revolutions that changed the face of the world forever.
The play opens in or just before 1776, as Americans began to foment a war to gain independence from their British masters. From then on, what cannot be told dramatically is narrated by Keith Bartlett's wise old Benjamin Franklin, who does not let his own death get in the way of theatrical responsibilities.
We first see Paine the Norfolk corset-maker, as he makes a passage to the New World. Soon enough, the young firebrand is helping a lacklustre George Washington and his cronies to define their country by penning first his Commonsense on Independence to get the people going and then the Declaration of Independence to set out the independent nation's first principles.
This would be enough for almost anyone but Paine, who later decamped to France and had almost as great an influence on the French Revolution of 1789.
However, after his seminal role there, the provocative writer offended a few too many people both in France and at home, not to mention in England where they feared their own uprising, with his plain speaking. The consequence was that Paine spent almost a year in prison, close to being martyred on a couple of occasions.
A New World can be heavy going at times but for the most part balances biography and history well, injecting flashes of humour and Stephen Warbeck's songs to break up the dissemination of information.
Light does a good job of portraying a difficult genius and receives good support from Laura Rogers and Alix Reiner playing Paine's contrasting mistresses on either side of the Atlantic and James Garnon, who delivers a lovely cameo as the charismatic but doomed Danton.
Overall, the play succeeds in reviving the name and reputation of a great man for a new generation, as well as presenting a flavour of his emotive and persuasive words. By the end, viewers will have painlessly absorbed a great deal of information about Thomas Paine's life and loves but also the turbulent world that he helped to shape.
Reviewer: Philip Fisher