Hamlet
William Shakespeare
Shakespeare's Globe
(2011)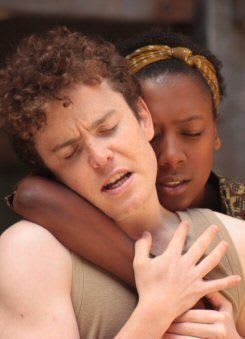 This touring Hamlet, directed by Dominic Dromgoole, is making a brief sojourn at its home base as it works its way around the country from Kent to Yorkshire, as well as playing in several countries on mainland Europe, appropriately ending up at Elsinore in Denmark.
It is not ideally suited to such a large space and, for the most part, uses only the central area of the stage. There, a cut-down cast of eight main players take up to five roles each in a chamber version of the play.
Joshua McGuire as Hamlet is not an imposing figure, which need not necessarily matter, nor is his voice the strongest. He is young and very slight - smaller than almost any other member of this cast, even the women.
That lightness is emphasised as the hardy actor spent much of a chilly, early-May evening looking like a gymnast in only a vest and light trousers without even the comfort of shoes.
Where he does score is in the comic scenes, which, as always, are Dromgoole's strong points. Indeed, it would be no surprise to see the young discovery making a name for himself in future as a clown rather than a tragic hero.
In a production with minimal scenery, one is obliged to work the imagination to picture some of the locations, starting early on the castle's ramparts as we learn of the death of Hamlet's father and his usurpation by an unworthy brother. That scoundrel, Claudius, is played with vigour by Simon Armstrong.
His marriage to his brother's widow, Amanda Hadingue as Gertrude, sets loose the ire of young Hamlet and also drives him to distraction but on this occasion any madness seems feigned. This contrasts strongly with that of his one-time lover (there is a flash of erotic passion to guide us as to their closeness), Jade Anouka's Ophelia.
The story runs along at breakneck speed, stopping off briefly for scenes that are often witty, especially those involving John Bett as a Scottish Polonius, who looks like a self-portrait of an old Flemish master in his cape and beret.
Dominic Dromgoole has cut and re-worked the text a little to bring the running time down to about 2 hours 50 minutes without losing anything of great significance. The soliloquies are there, all determinedly delivered from the front of the stage to the whole audience rather than appearing to be verbalised internal monologues.
Unusually, the highlight for many might be the play within a play when the players first put on a very funny dumbshow and then The Mousetrap, switching roles with alacrity behind a flimsy curtain in the manner of the best of farceurs.
This pacy production does not quite hit the heights of the last production of Hamlet at the venue a decade ago, which starred an unforgettable Mark Rylance. However, it should win fans as it tours around, introducing Shakespeare to those who might never get to the Globe.
Helen Brown reviewed this production at the Georgian Theatre Royal, Richmond, N. Yorks
Reviewer: Philip Fisher