Troilus and Cressida
William Shakespeare
Shakespeare's Globe
(2009)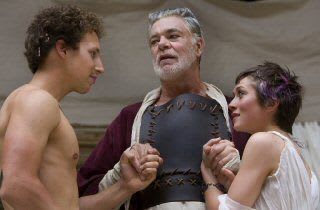 The story of Troilus and Cressida may be drawn from an epic Greek tale but it is not one of Shakespeare's greatest works.
Busy director Matthew Dunster gives the impression that he is not fully confident in the text, asking for expressive acting from a cast with manifold regional accents who seem to be chosen more than anything to milk every comic line.
The main story is about young love across the battle lines in a war between Greece and Troy caused by the beautiful Helen's infidelity.
Around the romance are woven stories of cowardice and bravery amongst a large, classically-dressed cast divided between Greeks clad in various shades of pale blue and their opponents in regal purple. However, while the warriors plot and fight, their efforts are trumped by four comedians.
Matthew Kelly plays Pandarus, the uncle who introduces his tiny, sylph-like niece Cressida to Troilus. Kelly does a wonderful job of crowd pleasing with a stream of jokes, as he engenders what must surely be the equal shortest love affair in history, matching that other pair from earlier in the Young Hearts Season, Romeo and Juliet.
The lovers, played by Paul Stocker and Laura Pyper, have only a single night of bliss before the girl is traded for a captured soldier and true love loses its way forever.
Trystan Gravelle makes an androgynous Achilles with a strong Welsh accent, more interested in trysting with his catamite, Beru Tessema's Patroclus, than the enemy. Their servant is Thersites played with great wit by a Dunster favourite, Paul Hunter as a kind of Grecian Baldrick.
Last of the big jokers is stolid, gullible Ajax, the Mohicanned Chinna Wodu playing a soldier so dumb that his bravery and strength must be second to none.
The evening looks good with some great fight scenes and the levity of a thieves' market proving entertaining. There is also some great work from Olivia Chaney who, in addition to playing Andromache and the harmonium, sings ethereally with a kind of angelic beauty.
Matthew Dunster shows an instinctive feel for the Globe's unique requirements, making the most of the space and working hard to keep his audience on side. Even so, he can find no real solution beyond powerful acting to redeem a series of dull, wordy but informative speeches with which this three-hour evening is littered.
Overall though, thanks to the comedians and the efforts of Laura Pyper, a star in the making with lively stage presence and comic sensibility, this is an enjoyable romp through a difficult play.
Reviewer: Philip Fisher