The God of Carnage
Yasmina Reza, translated by Christopher Hampton
Gielgud Theatre
(2008)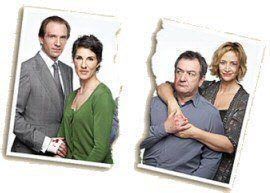 God of Carnage lived up to its name on the first night, as the nominal star intervened after an hour by taking out most of the power on Shaftesbury Avenue.
The good news was that Yasmina Reza's comedy was strong enough to overcome even this unexpected hurdle at the start of what could well be a run to challenge that of the French writer's now legendary Art. All credit must go to four fine actors who recovered a situation even more delicate than any concocted by the playwright.
One reason for the producers' justifiable optimism about this project is that they have put together practically the whole backstage team who made that play such a hit as well as including one of the stars from its original cast, Ken Stott, who excels as Michel.
He and his wife, Janet McTeer's Veronique, are hosting an uncomfortable little tea party for another couple, Alain and Annette played by Ralph Fiennes and Tamsin Greig. The connection between the two couples is the assault by the visitors' 11-year-old son Ferdinand who, following a verbal insult, took a bamboo stick to the hosts' slightly younger Bruno removing two teeth.
Designer Mark Thompson has set the play in a brightly-lit, symbolically blood red sitting-room within a suitably artistic picture frame. The initial exchanges between the couples are predictably strained, as each fights to protect the reputation of their own son, while diplomatically seeking peace, like politicians at the end of a lengthy war.
Several times early on, they almost manage to sign off on their verbal peace treaty but again and again, jockeying for position makes something goes awry. Gradually, civility gives way to outrageous behaviour that never quite goes beyond the bounds of likelihood.
As initial forced bonhomie disappears, the metaphorical gloves are taken off and the comedy becomes the kind at which one is forced to laugh out loud which is really this playwright's strength.
Strangely, in some ways at God of Carnage might be seen as the Noughties response to the now derided Loamshire plays of the 1940s. Where those plays represented and gently poked fun at typical middle-class folk in middle England, Yasmina Reza, as she did in Life x 3 does the equivalent for the urban French today, using couples and absent children as her palette.
Every one of these characters is entirely believable and you would not be surprised if you bumped into one of them on leaving the theatre. While polite and calm on the outside, it does not take a lot for the pent-up fury at life's frustrations to come to the surface.
Stott's, in his own words "fundamentally uncouth" Michel, a self-made businessman, prefers work to family and likes to do the right thing. Even so, when enough rum has been consumed, especially by his wife, he cannot help himself but launch into an outspoken tirade against children. The throaty Veronique, an author with an interest in African issues, is social awareness personified with her defence of little Bruno but also the downtrodden in Africa. Even so, she can speak as harshly as anyone.
The quietest figure is possibly also the most hateful. Fiennes' quietly bullying Alain is an embarrassingly high-powered corporate/libel lawyer in the throes of defending an indefensible pharmaceutical company. He is more attached to his mobile phone than his wife or son and, sadly, is an immediately recognisable city figure.
This makes his worn down wife's ultimate revenge sweet and many an audience member, especially the women, might well be tempted to emulate Annette who eventually allows decades of repressed feelings to flow like the projectile vomit that horribly started off the downward spiral of relations.
With its oblique commentary on the price of success today, God of Carnage once again shows us what a good and extremely funny observer of contemporary social mores this playwright can be, especially when siphoned through the brain and pen of her translator, Christopher Hampton.
As in Art, Miss Reza has structured her play like a musical performance, possibly by some bell ringers, as alliances constantly change until eventually, every combination has been tried out at least once, thereby illuminating not only all four people observed disintegrating on stage but their unseen children too.
Director Matthew Warchus has been lucky enough to work with a supremely talented cast on this occasion and the strength of the piece is demonstrated by the speed with which one was able to forget the unplanned interval and subsequent limited son et lumière.
Indeed, this exceptional comedy is set to be one of the year's big hits and is destined to provide a welcome boost to those who believe that Shaftesbury Avenue should be entirely populated by good new plays.
Visit our sponsor 1st 4 London Theatre to book tickets for The God of Carnage.
Reviewer: Philip Fisher