Waiting for Godot
Samuel Beckett
Theatre Royal, Bath
(2005)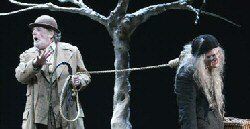 After an enforced absence of five months from the theatre, I am sitting in the crowded dress circle of the old Theatre Royal in Bath. With the rest of the packed Saturday afternoon audience, I await the last of eight performances of Peter Hall's production of Samuel Becket's Waiting For Godot.
To be honest. I am a little uncertain about my enterprise. Five months is a long time to be away from the theatre, especially for a critic. And Godot, whatever you may think of Becket, is not the first play one thinks of after such a period of indisposition.
Yet here I am, packed between serried rows of enthusiasts, many of whom have come to love and support Peter Hall's regular visits to the Spa town of Bath.
It's not as though I don't know what I'm in for. After all, I don't need Brixton Hamilton as the precocious boy to tell me that Godot will not show up. Not today nor tomorrow - nor any other day for rhat matter.
This Godot, whoever he may, be is an unreliable fellow - if indeed he exists at all.
As James Laurenson and Alan Dobie, as the sad figures of Vladimir and Estragon, lope about the empty stage, my heart goes out to them. Altogether more chirpy than their predecessors at the Old Vic, Ben Kingsley and Alan Howard, but where does that get us? Chirpy or not, they are still waiting and nothing is happening. Godot is not coming: in fact, he is not coming twice.
Pozzo, irrascibly portrayed by Terence Rigby, and Lucky, a brilliant interlude of nonsense by Richard Dormer, do come though with no evident purpose that I could discern. Of Godot of course there is no sign. Does he exist? is he a figment of those boys' mischievous imagination?
Who can say?
But do look in at the Barbican next Spring when they will be awaiting Godot again.
Reviewer: Kevin Catchpole