The God of Soho
Chris Hannan
Shakespeare's Globe
(2011)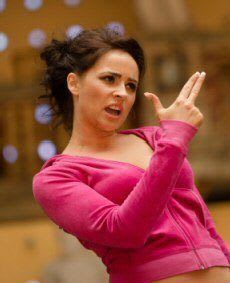 Before the evening really gets started, it is easy to recognise that this show is going to be unlike anything previously seen at a theatre named for William Shakespeare.
Visitors are welcomed by a lively, talented Ska band called Heaven's Angels and clad in white, who might be more at home at Glastonbury than the Globe.
They are the curtain raiser for a new play with music by Scottish playwright Chris Hannan which has been penned to fit the theme of a season entitled The Word is God, which has included All's Well That Ends Well, As You like It and Dr Faustus.
Like the Greeks and the Bard, The God of Soho considers the consequences when the Gods leave Heaven, much more like a kitschy night-club than a celestial home, and begin to slum it down on earth.
The initial motivation comes after Iris Roberts' Clem (The Goddess of Love) has a tiff with her bearded lover The New God, played by William Mannering.
Clem joins the homeless of Soho and somehow becomes embroiled in the fallout as two high-profile, pop icons break up all too publicly.
Emma Pierson hilariously makes Natty into a contemporary stereotype - the pneumatic, estuarine pop star with a singing voice but no brain.
Her battles with Edward Hogg's moody Baz can be a joy to behold. The real illumination is of Natty's character though come from the sex kitten's meetings with her sister, Teresa a down-and-out given real soul by Jade Williams.
In the conjunction of sisters, Hannan makes some telling points about the narrow distinction between fame and constant paparazzi attention (cleverly conveyed by designer Hannah Clark) on one hand and sub-human destitution on the other. This is emphasised by the play's final mantra, "learn to be a nobody".
There are many unusual twists and turns in a rambling but periodically highly entertaining romp that is enlivened by language that tends to be heightened amongst the Gods but near the knuckle when they get to earth.
Alex Silverman's music is a breath of fresh air, if as unlikely in this setting as the costumes, which range from relatively traditional white God-garb to the sexiest of black catwalk chic.
For whatever reason, under Raz Shaw's direction, the women get all of the best parts and as a consequence, Emma Pierson in particular, Jade Williams and Iris Roberts all get opportunities to demonstrate their excellent skills as character actresses.
Anyone expecting this unconventional and at times weakly constructed work to be a cosy complement to this venue's normal fare should stick to the Globe's Shakespeares.
Viewers willing to dive into the unknown and accept periods where the plot makes limited sense might find themselves rewarded for their bravery with unexpected insights into contemporary culture and two mostly differing elements of London society.
Reviewer: Philip Fisher