Godspell
Conceived and originally directed by John Michael Tebelak, with music and new lyrics by Stephen Schwartz
Circle in the Square, New York
From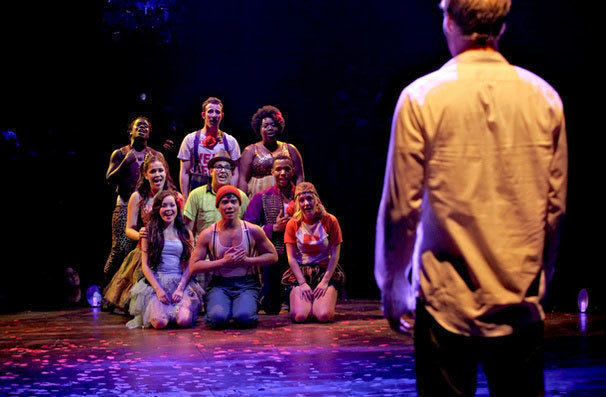 Daniel Goldstein, making his Broadway debut, has envisioned Godspell for new young audience. In doing so, he has injected contemporary references and utilised an updated score.
However, he has retained the spirit that must have inspired the original production just over 40 years ago and its London equivalent at the Roundhouse later the same year, which starred, amongst others, the rather incongruous pairing of David Essex and Jeremy Irons.
Godspell was a Rock Musical before they had really come into fashion. This is the New Testament, or at least St Matthew's Gospel plus a bit from St Luke, in new, racy clothes. As such, its subject matter leads to instant competition and comparison with Sir Tim Rice and Andrew Lloyd Webber's Jesus Christ Superstar.
Goldstein, whose previous work includes another cult show Walmartopia, makes the most of the space at the Circle in the Square Theatre, which is literally a theatre-in-the-round.
His actors perform in a central circle but also range around the auditorium communing with the audience, while a six-strong band is dotted around to increase the feeling of inclusiveness.
The ten actors pulse with energy throughout and most get a chance of a few moments in the limelight.
As in London all those years ago, there are almost certainly some future stars of stage and screen on show here. Perhaps the best voices in the ensemble belong to Morgan James, Lindsay Mendez and Telly Leung but all of their fellows have talent and a much-needed sense of humour, best personified by George Salazar.
The musical itself can lack narrative drive, as Jesus and his disciples tell a lot of parables and only slowly move to an inevitable finale, staged powerfully but tastefully.
Before that, the stories are told primarily in song with music from Steven Schwartz that contains everything from jazz and soul to hip-hop and post-punk, i.e. something to please any audience.
The cast members rush and bounce around in their efforts to please and generally succeed, though it is possible to come away with an overall impression that director Goldstein has tried a little too hard. His variations in presentational styles become breathless as so many are tried in the 2½ hours.
This can potentially detract from the story so that it is only with the emergence of Wallace Smith's Judas, eager to earn his 30 pieces of silver, that the plot really gains direction.
That also becomes the opportunity for Jesus, at this performance played with great charm by Corey Mach, to garner appropriate sympathy for the humanity that he demonstrates throughout but also his nobility in the face of treachery.
This production will undoubtedly appeal to the young and, as long as they can afford Broadway ticket prices, it should prove popular. The good news is that there is a daily lottery for $30 cushions in the heart of the action with every chance of getting dragged on to the stage for a brief communion with the Messiah and his pals.
Reviewer: Philip Fisher