Going Dark
Hattie Naylor
Sound & Fury
Young Vic's Clare Studio
–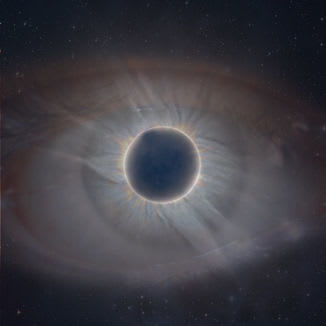 Sound & Fury's shtick is to provide immersive experiences that go far beyond the norm. Their last production Kursk was so cleverly devised that it was easy to believe that you had been invited on to a sinking Russian submarine.
Going Dark is on a completely different scale, though the attention to detail is once again immense.
The experience begins as persistent front of house staff usher guests into seats in almost complete darkness. This delays the start of a 70-minute show as comic exchanges about where there might be an invisible extra seat take place.
That process complete, we learn what real darkness means in a blackout that actually fulfils its name. This is a precursor of what is to follow.
First, the two characters, Scottish Max played by Guy Hoare and his 6-year-old son Leo, make themselves known. Throughout, the precocious youngster bucks the old maxim, being heard but not seen.
Max is an astronomer who delights in enlightening the world about the universe in a series of lectures illuminated (literally) through projections of the Milky Way on to the ceiling.
The story of a single parent and his son, who share an interest in matters scientific, would be thin fare for a play. However, writer Hattie Naylor injects pathos as we discover that Max is fast losing his sight.
Quickly, it becomes apparent that our sensory deprivations, surrounding him in the dark, are intended to replicate his. The sad, terrifying decline swiftly becomes irreversible and chronic, which inevitably asks viewers to put themselves in Max's place. To make matters worse, it is also accompanied by hallucinations.
Now, Max is forced to face up to his affliction and explain it to a son who is far more interested in his Thunderbirds toys than a blundering father.
Going Dark has the feel of a Complicite creation, thanks to its interest in scientific matters and quirky determination to get every detail right utilising light and dark plus an impressive and at times fearsome soundscape.
Where it falls short of the creative team's aspirations is in the story which, despite being deeply moving at times, struggles to say enough to fill even 70 minutes and is not quite compensated for by the impeccable production values.
Reviewer: Philip Fisher