Golden Boy
Clifford Odets
Lincoln Center Theater
Belasco Theatre, New York
–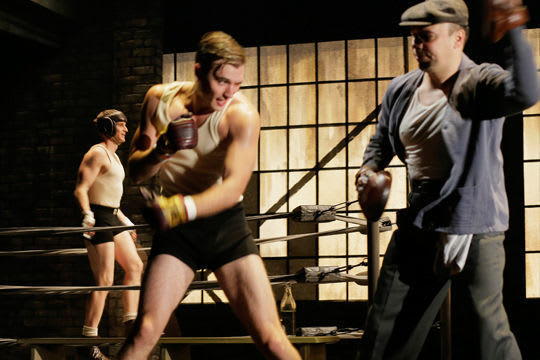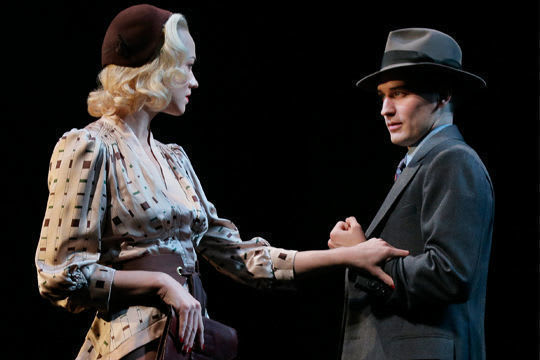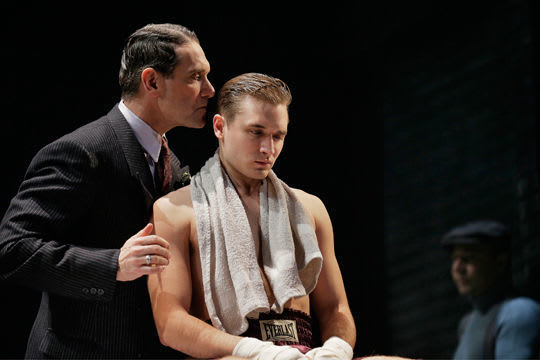 Considering his reputation and the quality of his work, it is a mystery as to why plays by Clifford Odets are seen so rarely in Britain.
It is possible that being an unashamedly political playwright who was always keen to promote his left wing messages has counted against him?
In any event, Bartlett Sher's Lincoln Center Theater production on Broadway in Midtown offers a typically meaty view of New York in the mid-1930s.
This is filtered through a journey following the rise of an untypical boxer, Joe Bonaparte given heart and vigour by Seth Numrich. The difference with Bonaparte (now there's a name) is that he is a bright and sensitive lad, winner of a New York violin contest.
The spit and sawdust aura is built early by scenic designer Michael Yeargan, who keeps colour to a minimum with his drab tenements, family home, office and gym all competing for grim dowdiness.
The fight scenes convince but are kept to a minimum, though the aftermath of one bout is as gory as most viewers are likely to be able to take.
We first see Joe bursting into the office of boxing manager Tom Moody at an embarrassing moment as Danny Mastrogiorgio's character is in a clinch with his strapping blonde PA, Lorna Moon, played by Yvonne Strahovski.
The youngster has come to tell Moody that his not very great white hope cannot box, offering his own services as a replacement. After the laughter subsides, the offer is accepted. This leads to a fairly typical fight story, from an era long before any of the Rockys came along.
What makes Odets a step or two ahead of the typical fictional depicter of boxing heroes in the making is his analysis of character, extending beyond the protagonist.
While some of the minor players such as Anthony Crivello as Italian promoter / crook Eddie Fuselli may be caricatures, the central trio all have arcs to travel during the three hours.
Joe has to come of age, enter a duel for the girl and decide whether to follow the advice of his intrinsically good, old father, empathetically portrayed by Tony Shalhoub, his decent manager or the much more driven Eddie.
In this, he gets help from all and sundry, Lorna as important as any of the men.
The play builds to an epic fight and its consequences but perhaps the most important speech comes from someone who passes us by in the early scenes.
Joe's brother Frank is a union organiser and, towards the end, he is the person who contrasts the quick bucks that can be derived in and around the boxing ring with the plight of the millions who are forced to earn their daily bread working for tyrannical bosses whose only interest is in making a profit out of them. It is easy to guess that this represents the playwright's own view.
This production marking the play's 75th anniversary fittingly at the lovely, old theatre where it was first played shows that Golden Boy is more than a contender.
It does the writer proud, not trying to hide some plot simplifications but celebrating a strong play with a powerful message and lashings of gritty realism. It also announces Numrich as a rising star, who has the looks and talent to become a screen idol but the ability to make it big on stage too.
This is a compelling piece of drama that should act as a reminder that Odets is well up there with the finest American playwrights of the twentieth century.
Reviewer: Philip Fisher