Goldfish
Lisa Whiteside
New Century House, Manchester (24:7 Theatre Festival)
–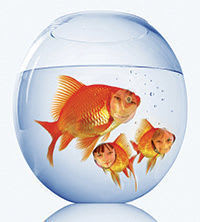 Lisa Whiteside, like Jo Kirtley Pritchard in Loaded, has used her own experiences of working with young people with behavioural problems as material for her play, taking on the role herself of Lou who runs a youth centre for "problem" or "at risk" children.
Leanne is the loudest of the children in her care who is most demanding of Lou's attention and very jealous when Lou pays attention to another child. Abby has ADHD and has a relationship with her uncle that the others are rather suspicious of. Cody is a friend, particularly of Abby, who complains that he is not allowed in the centre because he isn't a "problem child".
The final character is Nick, a policeman who has just become attached to the centre, but he has a special interest in Leanne because of something that happened once in the recent past, which doesn't come out fully until later in the play.
I know that some people have reacted very positively to this piece, but to me it is a bit of a jumble of some potentially very interesting character stories that don't really go anywhere. It is put across using techniques familiar to student drama such as lots of narration with the other actors illustrating everything the narrator says with mimed actions. This style seems quaintly simplistic and even old-fashioned, and appears to indicate a lack of trust in the audience to listen to a lengthy speech without some visual interest.
The characters and their backgrounds are totally convincing and clearly drawn from the writer's knowledge of similar children, but the situations and the stories are too vaguely drawn to draw the audience's sympathy and interest, at least for me. Add to that the repetitive arguments and very familiar lines like "I thought you were me friend" and "I thought you were different" from Leanne to Lou, and there was very little that managed to grab and sustain my interest for an hour.
There are some very good performances of course, especially Zoe Iqbal's exhaustingly energetic portrayal of Abby and a very sympathetic Cody created by Ciaran Clancy, plus Keeley Fitzgerald is perfectly believable as attention-seeking bully Leanne, writer Lisa Whiteside holds everything together convincingly as Lou and Luke Walker as policeman Nick gives as solid a performance as he has at previous 24:7s.
Reviewer: David Chadderton