The Gondoliers
Gilbert and Sullivan
English National Opera
Coliseum
(2006)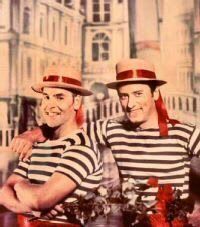 "List and learn " which is precisely what full houses at London's Coliseum are now doing with the opening of Martin Duncan's sparkling production of Gilbert and Sullivan's last successful collaboration for the Savoy, The Gondoliers or, The King of Barataria.
Many years have elapsed, following the demise of the old D'Oyly Carte, since a major production of this tuneful Venetian treat has opened in London, if indeed there has been a professional staging anywhere else in the land. Thus, audiences now filling The Coliseum are hearing certainly their first strains of gondolieri and, probably for many, witnessing their first experience of a Savoy opera in full dress!
Strange today to think that during the 1950s and 60s D'Oyly Carte and their list of traditional, strait-laced very English performances could fill the Manchester Opera House for three weeks at Easter and draw packed houses to several other great theatres around the country.
If ENO's latest evidence is to be relied upon, the years of Savoy famine have been well used. Fresh audiences, largely untutored in the terms and tunes of William Schwenk Gilbert and Arthur Sullivan, have been weaned, their diets for the most part thus far confined to Andrew Lloyd Webber, Rodgers and Hammerstein and Stephen Sondheim with, if they have been courageously educated, the occasional burst of Verdi or Wagner courtesy of a provincial tour.
Yet here once more are these uninitiated, agog with a curiosity unknown since Victoria's reign, now swaying in their restored seats, bruising their appreciative hands and bursting from the opera house with a spring in their steps and a catchy melody on their lips.
Not that I should allow the reader to infer that the new Gondoliers is all, to coin a Gilbertian phrase "our joy day unalloyed". The strict , very strict in the overture, tempo of maestro Richard Balcombe and his orchestral forces, reminds us that the performers have been away from this scene for quite as long as the rest of us!
Thanks to The Coliseum's enlightened policy of providing surtitles for English as well as foreign, that is to say German and Italian, works, we may enjoy Gilbert's wit in every particular. However, notwithstanding the vocal excellence of David Curry and Toby Stafford-Allen (Marco and Giuseppe), together with the equally delightful voices of Sarah Tynan and Stephanie Marshall (their partners Gianetta and Tessa), we may depend upon it that, without the screen, much of the clever minutiae would have been lost. This may have been Gilbert's fault for over-egging but that is no consolation to puzzled audiences who like to share joke as well as tune.
Moreover, Gilbert's verse is as good as it gets – whether in the quartet "Then one of us will be a queen", the sentiment of Luis and Casilda in "Bury ,bury let the grave close o'er'" or the clever lyrics of the lively Spanish "Cachucha".
Perhaps the most brilliant of all, however, is the intricate quartet in a complicated fashion in which Gilbert's subtle verse blends with Sullivan's genius at setting several different themes against each other. Small wonder Victorian audiences demanded encores.
One bone of contention, however, is Ashley Martin-Davis's colourful set. Cheerful, certainly, but nothing to give us even a hint of the dramatic beauty that is Venice's Piazzetta with ducal palace and vast lagoon. Instead we have a monopoly board, without the dice, and a chain of miniature bridges which are rather swamped by the large chorus of gondoliers and contadine.
The Gondoliers is noted for no fewer than seventeen principals – compared with only eleven for The Mikado. Such demands often placed the work beyond the reach of amateur companies with whom Gilbert and Sullivan were once so popular. Yet for the professionals, the profusion of roles simply adds to opportunity for the young singers in which ENO appears to abound.
Geoffrey Dolton (Duke of Plaza-Toro) is fleet footed enough for the Gavotte without the comedic touch required for Gilbert's grandee. Both he and mezzo-soprano Ann Murray singing delightfully enough while lacking the broad caricature required, as in the duchess's "On this day when I was wedded". Far from witnessing the taming of her progenitor, one is left yearning for the dramatic colour of an old English contralto – where are now the Marion Andersons, Janet Bakers or Gillian Knights? No contralto is today listed in the chorus!
Thankfully, there is an English, or rather Scottish, bass-baritone in the person of Donald Maxwell to show us just how grand a Grand Inquisitor should be. The late Kenneth Sandford would not have bettered his "There lived a king" and one is reminded that this quality is born of a range of great classical roles from Scarpia (Tosca) to Don Alfonso (Così), leaving us, indeed, with feelings of pleasure!
The production will be repeated at The Coliseum on Monday 20th, Tuesday 21st. Wednesday 22nd, Thursday 23rd (7pm), Friday 24th, Saturday 25 (2.30 and 7.30) and on Monday 27th at 7.30.
Reviewer: Kevin Catchpole