Gone Missing
Steve Cosson and The Civilians
Barrow Street Theatre, New York
(2007)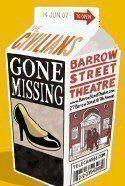 It might be reading too much into this highly professional Verbatim show from The Civilians but Gone Missing could be seen as a commentary on the "goldfish culture" emptiness of American and especially New York lives post 9/11.
The alternative view might be that it was ever thus and people have always lost anything and everything, as do the dozens of ordinary Joes portrayed in this 75 minute review.
Either way, this is a very funny but telling critique of modern life, based on interviews carried out by creator and director, Steve Cosson and the company.
The current production is a revised and expanded version of a show originally written in 2001 and subsequently presented at the Gate in Notting Hill in 2004.
A team of six young people - three men, three women - dressed almost identically in grey suits are supported by a three piece band. They combine witty monologues, tuneful songs and some impressive character acting to tell the stories of their varied subjects.
The style is extremely clever, as in their later Edinburgh show which transferred to the Soho Theatre, (I am) Nobody's Lunch, with text split so that stories are told in parallel, often shedding light and perspective on each other.
The recurring theme is of things that have disappeared. This encompasses everything from jewels to shoes; body parts of dolls and humans to whole countries; and memories to the minds of the mad.
Everyone will have their own favourites, whether it was the urbane, sub-Nöel Coward song The Only Thing Missing is You, the cop who loves to talk about his decomposing customers, pushy Laura who makes her friends lives hell after drunkenly losing a Gucci shoe, or a cringe-making pet psychic.
They are slickly directed by Steve Cosson who benefits from a stable team who have worked together for years and can swallow an understudy seamlessly. He doesn't neglect anything, ensuring that there are memorable images to complement the comedy and music.
It would be unfair to select any one of the six actors above the others but at the performance under review, not only did Jennifer R. Morris sing beautifully particularly in the excellent Etch a Sketch but she had such a great time, winding up one audience member (a friend?) so much that not only did she almost corpse but was close to taking her companions with her. That says much about the spirit in an archetypal New York show.
Reviewer: Philip Fisher