Goner
Brian Parks
Kraine Theatre, New York
(2006)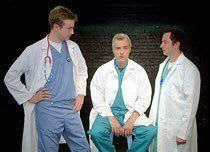 The British Theatre Guide was allowed a sneak preview of a new production of Brian Parks' Goner. This is a play that was first seen in Edinburgh in 2002 and is now being revived with most of the original cast and director, John Clancy.
This is the start of a year in which there are New York revivals of two other plays directed by Clancy, both of which won Fringe Firsts in Edinburgh, his own Fatboy and C J Hopkins' Screwmachine/Eyecandy each of which will play at 59 East 59th in the spring. This pair will be followed by Americana Absurdum and The Complete Lost Works of Samuel Beckett... at PS 122 in June.
Like Parks' earlier Americana Absurdum, Goner is a poetic but very funny play that must be played at breathless speed in order to achieve its cerebral impact. Also like the earlier piece, it delves deep into the American Psyche and doesn't always find pleasant things when it gets there.
The play is set in a wacky hospital they is presided over by Dr. Wyandotte played by David Calvitto, assisted by Jody Lambert as the wonderfully named Dr. Hoyt Schermerhorn (look on a New York subway map).
As in all of the best medical dramas, the latter quickly falls in love with the former's daughter, Wixom (Jona Tuck). She is also a doctor but aspires to become a film-maker with a particular interest in African American issues.
She isn't the only doctor with ideas for getting rich outside the hospital. One of her colleagues has invented a doll that, in theory at least, is supposed to assist sick children. However, whether they would really appreciate Chemotherapy Barbie (the hair falls out) may be open to question.
The hospital is operating grandly until they get a surprise visitor complete with a bullet in his head, this is the President of the United States of America played by Bill Coelius.
The President is accompanied by two mad FBI agents who see the enemy around every corner. Come to think of it, while the rest of the play may be over the top, this could seem to some to be no more than a reflection of reality in George Bush's angst-ridden United States today.
John Clancy's work is always pacy and exciting and in concert with Brian Parks, this company has come up with an hour-long black satire that should amuse and worry New York audiences throughout its January run.
Reviewer: Philip Fisher