Gone With the Wind
Based on the novel by Margaret Mitchell, book and lyrics by Margaret Martin, adapted by Trevor Nunn, music by Margaret Martin
New London Theatre
(2008)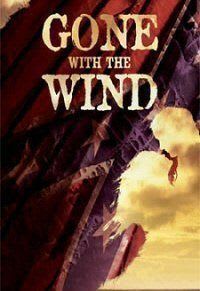 For this stirring adaptation of Margaret Mitchell's novel of love and death during the American Civil War, Sir Trevor Nunn has revisited the technique that he so impressively used to adapt Nicholas Nickleby for the RSC over twenty years ago.
He employs multiple narrators from a large cast to keep the story going, often contributing to each other's sentences but, in this way, holding the attention throughout a long evening.
Despite some fairly heavy cutting during previews, at 3¾ hours, Sir Trevor's adaptation is pretty much the same length as David O. Selznick's classic film version. That is very long for a musical and his problem might well be falling between two stools.
Rather than a musical as we know it, Gone with the Wind is a hybrid combining a strong plot well presented on stage, with a fair number of songs that do not always achieve the same artistic levels.
This project was the brainchild of Margaret Martin, a lady whose career hitherto had lain in public health. Remarkably, this is her first theatrical outing and while the book and lyrics are perfectly serviceable, for the most part the music that she has written is instantly forgettable, despite some lovely singing.
There are however many plus points about this production, which makes the most of its setting in the New London Theatre. Designer John Napier, the man who helped the director stage Nicholas Nickleby, excels himself in a similar style.
The stage thrusts itself well into the audience, while the wood effect set stretches the whole way around them, instantly steeping everyone in the atmosphere of the old American South in the mid-19th century.
The design effect is then completed by costumier, Andreane Neofitou, whose budget must have been tremendous. Not only does she clothe the massive cast to great effect but gives the evening's star, Jill Paice, around fifteen costumes, many of them memorably beautiful.
Miss Paice has been imported from Broadway to portray the feisty young girl and it appears that the director has built the show around her slender shoulders.
The American beauty plays the Vivien Leigh part of Scarlett O'Hara most effectively with a sweet singing voice, touching petulance and a winning way, although arguably she does not have quite the right level of malice for a girl who is not quite as innocent as the fairytale princess of this production.
Scarlett is a spoilt little rich girl whom we first see aged 16 in Georgia during 1861 as the debate over slavery threatens to boil over into a civil war. She never quite recovers from rejection by Edward Baker-Duly's Ashley Wilkes, who favours his own cousin Melanie.
On a very swift rebound, her hot Irish blood at boiling point, the teenager marries and in no time at all, is literally visualised as a widow in a wedding dress, as the war takes her husband. From then on, Scarlett's fate is intricately connected with that of a man who should be all bad but redeems himself thanks to a sense of humour and true love for her.
Pop Idol Darius Danesh is a Clark Gable lookalike in the role of Rhett Butler and towers over the cast like a basketball star but though he combines wit and charm is not necessarily overwhelmingly of star quality. His Nick Cave voice is however not well served by the music in a series of songs almost all of which fade out of the memory at the final note.
The other major influence on Scarlett's life is Madeleine Worrall as her pale, angelic sister-in-law Melanie, as good as Rhett and Scarlett are bad.
The strongest the support comes from actors playing slaves in the first half and free men and women in the second, though you would hardly know the difference. They also get a lot of the best of the songs.
Another American injection, NaTasha Yvette Williams, both acts and sings finely as Mammy, a kind of second mother to the O'Hara children; Jina Burrows gets one magical song as Prissy," I'm Going to Find a Life"; while Ray Shell's Pork leads an ensemble in the evening's best tune, "Follow on the Wings of a Dove".
This production works well as a spectacle, never better than when Atlanta burns as a background to the evening's title song with which Jill Paice triumphantly heralds the interval.
In today's soundbite society, there must be a fear that audiences will not flock to pay up to £60 to see a musical of this length. If that is the case, it will be something of a pity, since so much effort has been put into lovingly creating an enjoyable stage event, in which the storytelling is very faithful to the original and constantly compelling.
Visit our sponsor 1st 4 London Theatre to book tickets for Gone With the Wind
Reviewer: Philip Fisher