Gong Donkeys
Richard Cameron
Bush
(2004)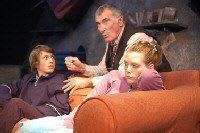 Gong Donkeys is a bizarre and rather enjoyable comedy that combines a snippet from the life of Charles Dickens, some characters who seem to have leapt from his works onto the stage and an assortment of extraneous complications.
Taking as a starting point, a visit by Dickens, his assumed lover Nelly Ternan, and Wilkie Collins to Doncaster for the St Leger, Cameron superimposes stories of the lives of contemporary Yorkshire folk.
Innocent, 14 year-old David (surely not Copperfield), played by Rory Jennings, has to leave home because his mother is ill, suffering from potential mental problems possibly caused by his father's philandering. He goes to stay with his former schoolteacher aunt and unemployed uncle, the latter a rather eccentric man who is writing a monograph about the writers' Northern jaunt.
The third member of the household is David's surprisingly shy 18 year-old cousin, Charlene, a theatre director manquée who needs a man.
Soon David teams up with a pair of mentally subnormal men. Burn Gorman is absolutely superb as the Smike-like Wink, while Peter Bramhill plays Gobbo.
The three male misfits form a gang while Andrea Lowe as Charlene, more like Violet Elizabeth Bott than a Dickensian heroine, takes them through hilarious re-runs of EastEnders and works of Dickens.
The plotting can be a little thin but the main strain relates to a missing child and the possibility that Gobbo might have killed her.
In the end, the not terribly wicked uncle gets his comeuppance, David is forced to grow up, the two lads run off to become Carnies and Charlene sees a glimmer of hope in her father's downfall.
Mike Bradwell wrings many laughs out of some extremely odd situations and characters. He is well served by his cast and, in addition to Gorman, an occasionally less than word perfect Edward Peel shines as the uncle, especially when relating ghost stories.
Lisa Lillywhite's set is almost post-nuclear. A burned-out living room melts into a derelict wasteland. It seems an appropriate setting for a play that has as its moral the fact that there are still families in Britain today whose lives are not too far from those so vividly depicted by Dickens in the middle of the 19th century.
Gong Donkeys is hardly a conventional theatre piece and, at times, gets lost in its own cleverness. However, it can be extremely funny and its characters are often endearing. This could prove a real hit with and those desiring a different night out.
Reviewer: Philip Fisher