Good Dog
Arinzé Kene, adapted by Natalie Ibu
Tiata Fahodzi
The Space
From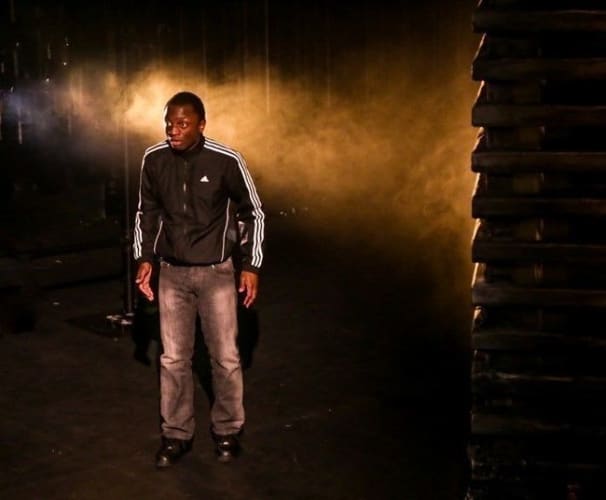 This film version of the stage play, first seen at the Watford Palace in 2017 produced by company Tiata Fahodzi, should act as a wake-up call to all those creating mediocre fare in a desperate attempt to maintain some kind of presence as the world goes mad.
First time around, it ran to 2½ hours but for the screen, has been condensed to little more than 10% of that running time.
Co-directed by Natalie Ibu and Andrew Gillman, it is an Orwellian morality tale that speaks volumes about diversity and prejudice without doing so directly. Instead, it utilises the medium of a pair of dogs residing in adjoining gardens surrounded by high-rise buildings including the one occupied by Anton Cross playing our knowledgeable but laid-back narrator.
Over a period of 10 years starting in 2003 when the lad was 13, he observes life on the estate offering trenchant opinions and poetic language, delivered with something of a second-generation London-Caribbean patois.
One of the piece's real strengths lies in the playwright's ability to conjure up memorable images to convey stories.
In less than 20 minutes, the narrator relates a number of tales. These include that of the Trevors, Senior and Junior, encompassing the fears that a hard-working father has for his son in today's dog eat dog world.
This is contrasted with the efforts of Gandhi, a resignedly realistic corner shop owner, to survive in the face of shoplifting teenagers and their angry, Eastern European mothers.
However, the central tale is that of a little dog constantly terrorised by her big neighbour, a veritable beast.
As fear sets in, the terrified little dog behaves badly in the eyes of her owner. As a result, she becomes doubly threatened, big teeth drooling on the other side of the fence, while kickings prevail closer to home.
Calmly but efficiently, Arinzé Kene brings all of these stories together to reach a satisfying conclusion that speaks volumes about violence in London today and the need to maintain convictions so that you can hold your head up high.
Reviewer: Philip Fisher