Good Nights Out
Aleks Sierz
Methuen Drama
Released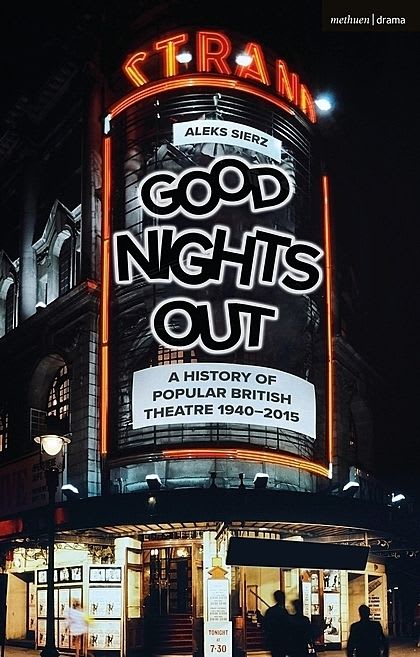 The majority of academics seem to go out of their way to write books on relatively obscure subjects. Bucking that trend, Aleks Sierz's latest offering direct itself towards the most popular British theatrical productions of a 75-year period commencing in 1940.
His starting point is scientific but somewhat random, since in order to qualify for entry in an esteemed list, a play or musical must have enjoyed a consecutive run of 1,000 performances, although a little leeway is allowed around transfers between venues and other minor breaks.
Part of the fun of this volume lies in discovering totally forgotten works that ran for year after year and contrasting those with pieces that seemed to be incredibly popular but failed to make the grade.
It is sad to discover that so many plays that must have seemed like they would run forever have disappeared without trace, not only those written about the war, either while it was still going on or soon afterwards, but also many of the lightweight comedies that would now presumably seem very dated.
Pleasingly, though, the first play on the long list, Noël Coward's Blithe Spirit, is still going strong and has just reopened in the West End.
The question arises as to what makes audiences return to plays again and again and the qualities that are required to achieve this level of popularity.
It becomes clear at an early stage that artistic merit is rarely a relevant factor, let alone a guiding principle, with dear old Shakespeare barely getting a look in.
Ironically, where there is a strong literary underpinning to a piece, it needs to be well disguised in order to fool the public into coming back again and again. The Bard actually does make it but only as the progenitor of musicals such as Return to the Forbidden Planet, which was based on The Tempest.
As the author identifies, in recent decades, almost every megahit was either a musical or a light comedy, most commonly a farce. That makes the National Theatre production of The Curious Incident of the Dog in the Night-Time not only special but unique as a straight play that hit the target after opening in the current millennium.
As with any book of lists, one attraction is to discover what is and is not included on the long-list and then to drill down and find out the plays that Aleks Sierz has chosen to analyse in depth utilising his academic experience but in an accessible style that will appeal to a general audience.
He has broken down his subject into seven categories: war, crime, sex, family, class, history and fantasy.
To give a flavour, choosing randomly from each category, the book includes detailed views of Worm's Eye View by R F Delderfield, the granddaddy of them all with twice as many performances as any other The Mousetrap by Agatha Christie, No Sex Please We're British by Anthony Marriott and Alistair Foot, Spring and Port Wine by Bill Naughton, Blood Brothers by Willy Russell, The 39 Steps by Patrick Barlow and The Rocky Horror Show by Richard O'Brien.
This is a book that will prove both informative and entertaining, reminding readers of changes in society over the last 80 years, at the same time as showing them how theatrical popularity moves with the times. In the politically correct climate today, it beggars belief that The Black-And-White Minstrels twice made the list with different shows.
Good Nights Out is genuinely a great read and, as a bonus, could also generate an excellent dinner table game, as guests attempt to guess which new plays or musicals will make it to the top table in two or three years' time.
Reviewer: Philip Fisher