Goth Weekend
Ali Taylor
Stephen Joseph Theatre Company and Live Theatre
Stephen Joseph Theatre, Scarborough
–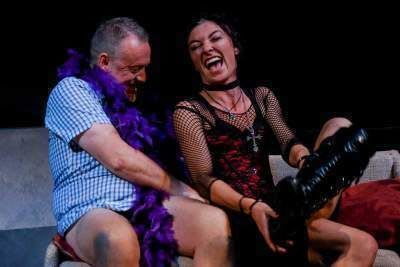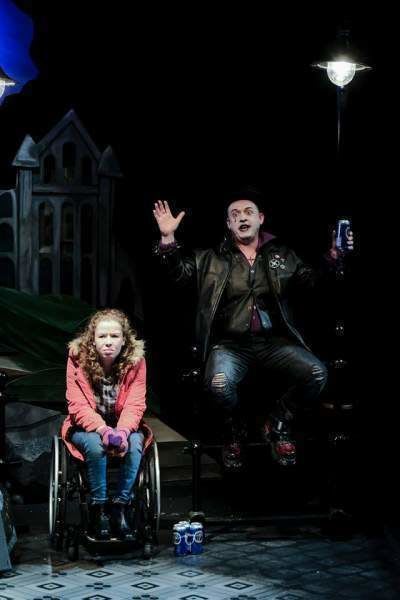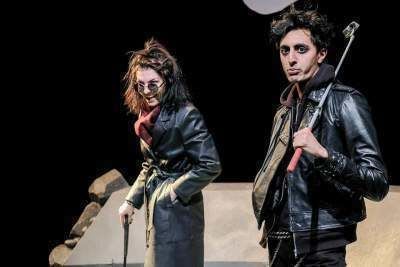 Following the critical success of Cathy, a searing portrayal of how a mother and her daughter descend into poverty and homelessness in modern Britain, playwright Ali Taylor returns to the stage with a poignant culture-clash comedy set in Scarborough and Whitby.
Taylor was inspired to write Goth Weekend after attending an exhibition on Gothic culture at the British Library in 2014. One of the exhibits, a photographic display of pale-skinned people eating chips and ice cream whilst dressed in black period-style clothing, led him to the Goth Weekend held in Whitby twice every year.
The festival serves as a gathering place for both Trad Goths (those who were part of the post-punk movement that emerged in the late '70s) and a variety of subgroups, including Romantics, Steampunks and Cyber Goths. In Goth Weekend, Taylor uses the festival as a backdrop for exploring the ideas of family, identity and belonging.
A year after the death of her beloved mum, 15-year-old Anna (Amy Trigg) decides it's time for her plumber dad, Ken (Sean McKenzie), to meet someone new. She starts setting him up on blind dates with women she meets online, but none of these awkward encounters results in a love-match.
Anna's plans to set her dad up with a woman like her mum (i.e. respectable, strait-laced, middle-class) are torpedoed when he meets Belinda (Jessica Johnson), a Goth singer who models herself on punk icon Siouxsie Sioux. When Belinda is invited to perform at Whitby's Goth Weekend, Ken invites the Geordie chanteuse and her mopey teenage son, Bram, né Simon (Gurjeet Singh), to move in with them for a few weeks—much to Anna's chagrin.
Having loved Cathy, I'm pleased to report that Goth Weekend is another theatrical success. Taylor has a natural flair for comedy—one never gets the feeling that he's straining for laughs—and his play is filled with witty comic dialogue, including a brilliant assessment of why pensioners love Scarborough so much.
At first, some of the characters seem rather two-dimensional. In some of the early scenes, for example, Anna comes across as an unrepentant killjoy in a similar vein to Saffy from Absolutely Fabulous (1992-2002). However, all four protagonists develop significantly over the course of the play, and each of them is more nuanced and multi-faceted than you might expect.
The Stephen Joseph Theatre has earned a reputation for high-calibre ensemble acting, and this tradition continues in Goth Weekend. Jessica Johnson is terrific as a middle-aged single mum trying to live out her musical dreams. Her crackling energy makes us understand why Ken falls for Belinda so quickly, and she movingly conveys the character's numerous insecurities.
Sean McKenzie, such a delightful sleazeball in The Rise and Fall of Little Voice earlier this year, is equally impressive here. He does an excellent job of communicating Ken's lingering grief over his late wife and the sense of joy that Belinda rekindles within him. Together, Johnson and McKenzie make a surprisingly touching, middle-aged Romeo and Juliet.
As the surly teens who wish to undermine their parents' burgeoning relationship, Amy Trigg and Gurjeet Singh are suitably surly and self-absorbed. Trigg is masterful in her delivery of withering put-downs and Singh skilfully conveys Bram's disgust at Ray when he tries to embrace Goth culture by wearing make-up and dressing in black and purple. Although Goth Weekend is an inclusive event that welcomes different subcultures, some hard-line Goths object to 'costume dressers' (people who enjoy wearing flamboyant outfits now and again), and this underlying tension is brought to the surface in Taylor's play.
Director Paul Robinson makes good use of the limited space of the McCarthy auditorium, ensuring that the evening is well-paced and moves fluidly from scene to scene. Helen Coyston's set design is evocative and uncluttered and her Goth costumes are a pleasure to behold. I also enjoyed the show's various musical interludes, including Siouxsie Sioux's cover of "The Passenger".
Goth Weekend is hardly mould-breaking stuff, but it is genuinely funny and surprisingly touching.
Reviewer: James Ballands