Götterdämmerung
Richard Wagner
Bayreuth Festival,
Festival Theatre
(2004)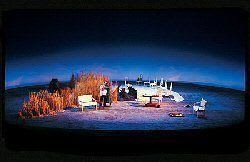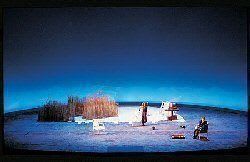 Thunder and lightening over Bayreuth heralded the opening of Act 3 of Götterdämmerung, dampening the homeward walk for happy patrons after the second showing of Wagner's Ring in this summer's festival.
It was a case of the elements showing more imagination than director Göran Flimm. An exciting Rheingold was not matched by Die Walküre and Siegfried confirmed the stylistic decline.
Götterdämmerung, after sinking the wrong structure in flames, turned into a concert version of the great finale with Evelyn Herlitzius' Brünhilde looking sadly on.
This Ring Cycle will surely be remembered for some delightful singing performances, even if musical preoccupations do not allow for much acting, and a fine orchestral exposition of the massive score under Adam Fischer's alert baton.
A superb Albericht from Hartmut Welter, who did become the character, a splendid Wotan for another production from Alan Titus and an elolquent Fricka from Japanese mezzo Mihiko Fujimuna.
Memorable giants, too, from Philip Kang (Fafner) and Johann Till (Fasholt).
Nor shall I forget Herlitzius' Brünhilde. While the remarkable, sweet-toned soprano has a power surprising from such a slight figure, it does not seem truly at home in this fearsome role.
My feeling about this staging is that it lacks consistent shape. Certainly Wagner let his imagination roam free but that is no excuse for directors to do the same. To reduce these famous characters to ordinariness in the presence of a profoundly un-ordinary score is to invite the dismay of the Friends of Bayreuth!
While a most compent stand-in for the ailing Yvonne Wiedstruch sang from the wings, it ought to have been within the scope of this company to provide an understudy who could manage the moves.
Notthing, however, dims the memory of luscious, huge chords balanced by unbelievable poignant moments of delicacy from the orchestral forces.
Notwithstanding dramatic licence, the packed, committed house is entitled to see the real Valhalle go down in flames - not the earthly setting which just happened to be on stage.
Over to the elements for the real fireworks!
Reviewer: Kevin Catchpole