Grand Music Fest 16

Grand Theatre, Blackpool
–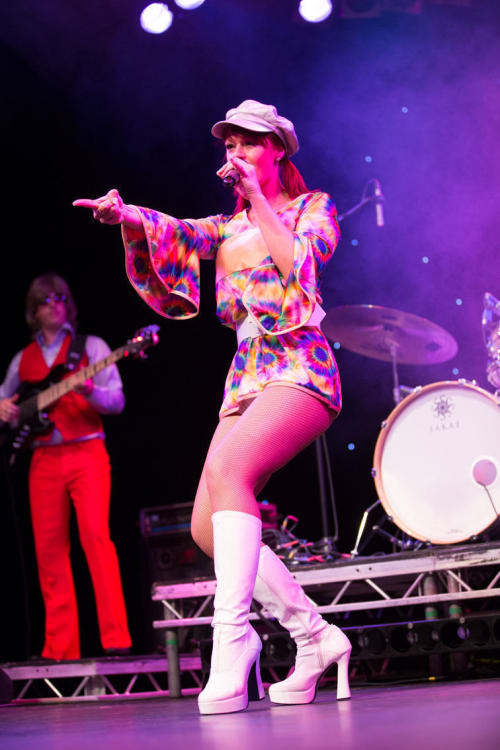 Jukebox musicals may be common enough but the Grand appears to have invented the jukebox summer season.
Depending on which nightly slot you put your money into, you're rewarded with a tribute act from around 10 shows that run the gamut of pop music over the last half century.
Tuesday nights are the turn of the Chicago Blues Brothers; Wednesdays it's a Karen Carpenter tribute; Thursdays sees Solid Golds 70s alternating with Forever in Blue Jeans—a kaleidoscope of hits from the '50s to the present day; likewise Fridays switches between T Rextasy and Think Floyd; while weekends generally alternate between facsimiles of Take That or Frankie Valli and the Four Seasons. The Magic of Motown even gets a look-in one Sunday evening.
It's fair to say that even Blackpool in its heyday would have been unlikely to have attracted all the original acts, but it's also typical of the resort to be adjusting to changed times in attempting to re-invent the summer variety show season. Grand Music Fest 16 stretches over six key holiday weeks and comes with multi-buy ticket offers.
Monday nights are pretty well the preserve of Dancing Queen, one of scores of Abba tribute acts, but one with enough energy and stage presence to hold together a two-hour stage show that also warms its audience to the occasion with a first act devoted to '70s disco hits or a Grease medley.
The best of their costumes, lighting and wigs are saved for a second act thrown over exclusively to the Swedish pop quartet. Unless you're one of the few people on the planet who have neglected to see Mamma Mia! on stage or cinema screen, you'll be familiar with the set list.
The between-numbers costume changes reflect the band's changing styles, even if a "wardrobe malfunction" becomes apparent—appropriately enough during "Does Your Mother Know That You're Out"!
There's also a nod to times past with a little community singalong. And when one elderly couple—more superannuated than Super Troupers—are spotted lustily singing "Lay All Your Love On Me" to each other, then you know that good entertainment, however packaged, can be ageless.
Reviewer: David Upton