Grand Hotel
Book by Luther Davis, Music and Lyrics by Robert Wright and George Forrest with additional music and lyrics by Maury Yeston
Based on Vicki Baum's Grand Hotel
Almeida
(2004)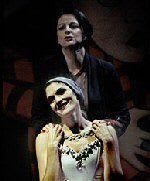 The Donmar has a fine tradition of producing chamber musicals with tiny orchestras, in this case a versatile band of six; and relatively small casts. Artistic director Michael Grandage has chosen Grand Hotel the Musical, based on Vicky Baum's novel, for his 2004 Christmas musical. The era is that of Cabaret, Berlin in 1928, as the jazz age is beginning to give way to the Great Depression.
The pivotal character is not Gary Raymond's depressed dope fiend doctor who narrates the tale but impossibly handsome matinee idol Baron von Gaigern, complete with Errol Flynn moustache. It is around him that the other hotel residents pursue their tales of love and loss, life and death. Without exception, the Baron's fellow hotel guests are down on their luck. Money has flown and love is hard to find.
The excellent Julian Ovenden makes much of a gentleman thief on whom David Niven's performance in the Pink Panther might have been modelled. He shows the good acting skills and very strong voice of a prospective musical star. He is in good company as the acting skills of the two big names, Hollywood star Mary Elizabeth Mastrantonio and local hero Daniel Evans, are amply demonstrated.
Miss Mastrantonio plays Grushinskaya, a forty-something ballerina making her eighth but probably not final farewell tour. Laughed off stage on a regular basis, she only find solace when the Baron - "You are so young I have a ballet slippers older than you" - engages her in a passionate and seemingly genuine, but ultimately doomed love affair. The actress shows skill not only in getting laughs but also as a ballerina and a singer whose highlight is the gritty Edith Piaf-like Bonjour Amour.
Evans acts beautifully and shows off a moving voice playing the spurned, consumptive Jew, Otto, who finds the Baron a lucky talisman. With his beard, glasses and homburg, he could have stepped straight out of designer Christopher Oram's backdrop, based on the art of Otto Dix.
They are a number of sub-plots, the most interesting, if predictable of which features Helen Baker as pretty typist Flaemmchen and Martin Evans as the bull-necked businessman Hermann Preysing. In her efforts to become a Hollywood starlet, the young woman is compromised but, inevitably in a tale of this type, achieves a happy ending. Her admirer is not so lucky although he is involved in one of the musical highlights as he wrestles with his conscience throughout The Crooked Path.
The jazz varies from exciting to forgettable and the storyline can be touching in the way off Hollywood movies of fifty and more years ago when the book was written. With its strong performances and names that will draw in crowds, Grand Hotel the Musical holds the attention and often does far more. It will be a surprise if it does not sell out the Donmar throughout its run.
Reviewer: Philip Fisher