The Grand Inquisitor
From The Brothers Karamazov by Fyodor Dostoyevsky, adapted by Marie Hélène Estienne
Barbican Pit
(2006)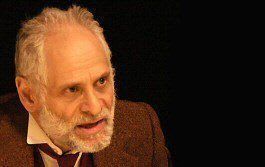 The London premiere of any piece directed by Peter Brook is always a cause of great anticipation and excitement.
The Grand Inquisitor is a gripping monologue in which Bruce Myers both narrates and plays the title role, delivering what is effectively a staged extract from The Brothers Karamazov exploring religious belief.
For 50 minute, the veteran actor, like adapter Marie Hélène Estienne a long-time Brook collaborator, takes us back 500 years to Seville during the worst excesses of the Spanish Inquisition.
Hundreds are being slaughtered in autos-da-fe each day but hope returns with the arrival of a Christ figure who cures the sick and raises a dead child from its coffin, possibly the Second Coming, though Dostoyevsky denies this in the novel, suggesting that this is merely a visit to his children.
He is played mutely by Rohit Bagai in a demonstration of sustained concentration, barely moving until his character offers a final defiant, but peaceful, gesture.
The Grand Inquisitor is almost 90 and addresses the visitor in a prison cell, making a pretty compelling case, in his own mind at least, for personal salvation at the expense of the Catholic Church. In his thesis, it is he that is offering freedom and a future and Christ and his Church that have made people unhappy for centuries and brought death to so many.
Whether this is an attack on the Church, many of its supreme leaders down the years, or merely the self justification of an evil or misguided man might be a subject for fertile debate. In this passive duel, the Messiah comes out the winner, planting a gentle kiss on the lips of The Grand Inquisitor, thus silencing him and receiving safe passage, if not benediction.
Brook has used his legendary empty space with Myers moving around a square, the only props two stools and a man acting as a focal point.
Bruce Myers had a prodigious task in learning this dense text and, on occasion, suffered from the effort. However, his relaxed delivery builds impressively so that the powerlessness of a seemingly invincible man shines through at the end.
The whole run of The Grand Inquisitor was sold out long before it opened. That is a great tribute to the legend of Peter Brook and his team. Visitors will not be disappointed by this short but mesmerising performance or the debate about meaning that it will provoke.
Reviewer: Philip Fisher