Granville Barker on Theatre: Selected Essays
Harley Granville Barker
Methuen Drama
Released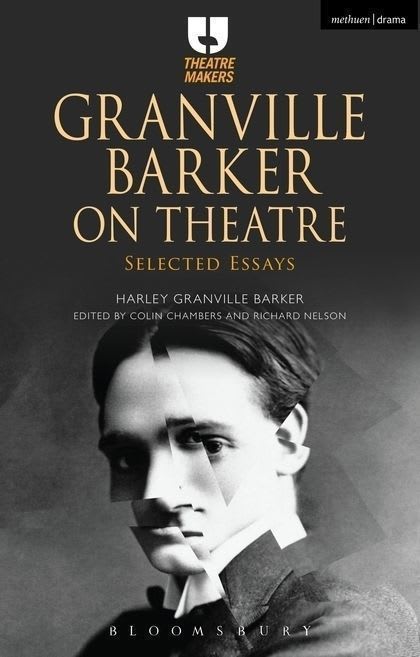 This new volume in the Methuen Drama Theatre Makers Series seeks to reassess the life and career of Harley Granville Barker at the same time as resuscitating many of his lesser-known writings for a fresh audience.
To start at the end, the co-editors, academic Colin Chambers and playwright Richard Nelson, use the last 25 pages of the book to expound a conspiracy theory, which attempts to prove that Granville Barker's reputation was maliciously undermined by George Bernard Shaw, possibly as a result of nothing more than jealousy. The tale also involves what appears to have been Granville Barker's somewhat sordid divorce from his first wife, the actress Lillah McCarthy, soon to be replaced by American socialite Helen Huntington, who may or may not have then banned him from working in the theatre.
This is all good cloak and dagger stuff but the heart of Granville Barker on Theatre lies in the 21 selected essays, which together cover a long period from around the beginning to the middle of the 20th century and almost every aspect of the theatrical industry.
Harley Granville Barker was the perfect person to opine on such matters, as a polymath who not only acted, directed and wrote plays but was also desperate to create a national theatre, as a pre-requisite for the long-term health of drama. In addition to all of this, he wrote what many regard as definitive prefaces to Shakespeare's plays and much else in which the result of deep thought about the theatre scene can seem as relevant today as it did a century ago.
Whether it is the performance and creation of plays, including their design design or possibly the business side, that is of greatest interest to a specific reader, there will be much to mine in these essays.
They are divided into three categories. The first section looks at "The Art of the Theatre", which is probably of greatest interest to practitioners, particularly carefully thought out views on the interaction of writers, directors and actors.
The next part entitled "Other Theatres" considers work from overseas, focusing on trips to Berlin and Moscow but also including good pieces on both Tolstoy and Ibsen.
Finally, "The Future of Theatre" provides various models for the ways in which Granville Barker expected the theatre to develop. In particular, he recognised that his perfect model of a permanent company working in repertory theatre would never be financially viable. One of the most innovative alternatives that he proposed was to allow amateurs to express their love for the art form, which at least could come at low cost and with reasonable chance of obtaining the necessary finance.
Realistically, this collection of essays and extracts from larger works might best be dipped into. Some of the ideas now seem old-fashioned, but there are more than enough morsels of wisdom to inspire and challenge anyone interested in ploughing their furrow in the theatre, whatever their specific area of interest.
Reviewer: Philip Fisher