Grasses of a Thousand Colours
Wallace Shawn
Royal Court Theatre Upstairs
(2009)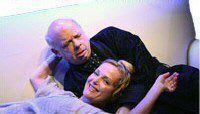 There will be much debate about the heavily disguised meaning of Grasses of Many Colours but probably far less about the high quality of the acting, from three American actors and the British star of this writer's finest work, The Designated Mourner.
The playwright performs the central role as scientist, Ben, in this world premiere. He is a sexagenarian former doctor who has written a book and is now entwined in memoirs. These might be perverted, dredged-up dreams or, more likely, the feverish thoughts running through an active mind as the body fades into death.
Shawn gets most of his laughs from non sequiturs delivered deadpan, which will either tickle a laughter mechanism in the viewer's brain or leave him/her baffled.
The story, such as it is over a 3¼ hour duration, follows Ben's relationships with three contrasting "red" women, who, together with a magical cat, might be intended to represent facets of a single partner?
Miranda Richardson is blonde Cerise, the oldest of the trio and his wife, now disappeared to pastures new. She also has something in common with Blanche the cat (her alter ego?).
Cerise's replacement is the voluptuous redhead, Robin. She is many men's dream but has a rather explosive nature. Film star Jennifer Tilly's expressive face adds much during Ben's lengthy monologues, most typically, an ironical veneer to almost everything that he says.
Finally, comes young black-haired Rose, played by Emily McDonnell. She is an innocent who gets involved with the protagonist as the world begins to succumb to a sickness that threatens to take on plague proportions.
This long play, told almost exclusively in poetic monologues contains much dream-like fantasy. This frequently borders on or becomes a pornographic fairy tale as Ben and his women fantasise or remember encounters and orgiastic parties where animals take over from human beings.
The whole is rather too mystifying, even for a writer who loves to confound public expectations. The underlying themes are of potential interest, especially as a cult of hedonism and swine flu sweep (or not) the world but much of the peripheral partying will leave many visitors cold.
Playing until 27 June
Reviewer: Philip Fisher