Grease
Jim Jacobs and Warren Casey
Colin Ingram for InTheatre, Donovan Mannato, William Sinclair, Hunter Arnold, Ricardo Marques, Araca, Curve
Donald Gordon Auditorium, Wales Millennium Centre
–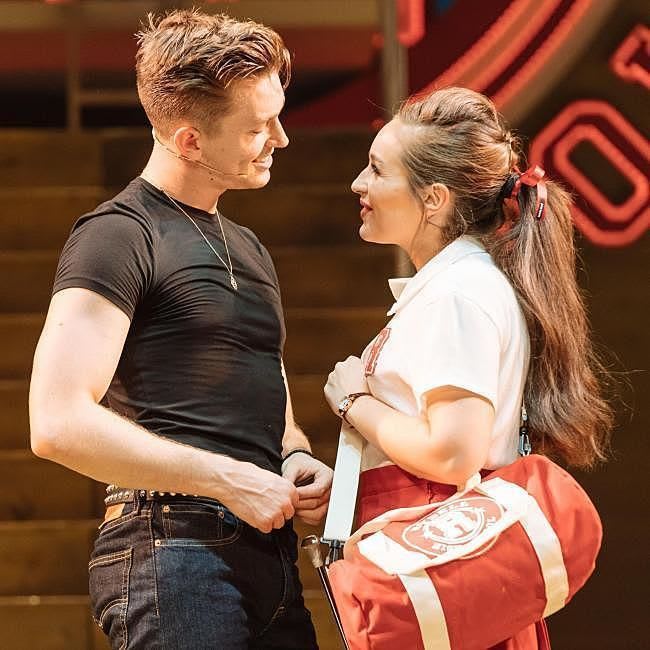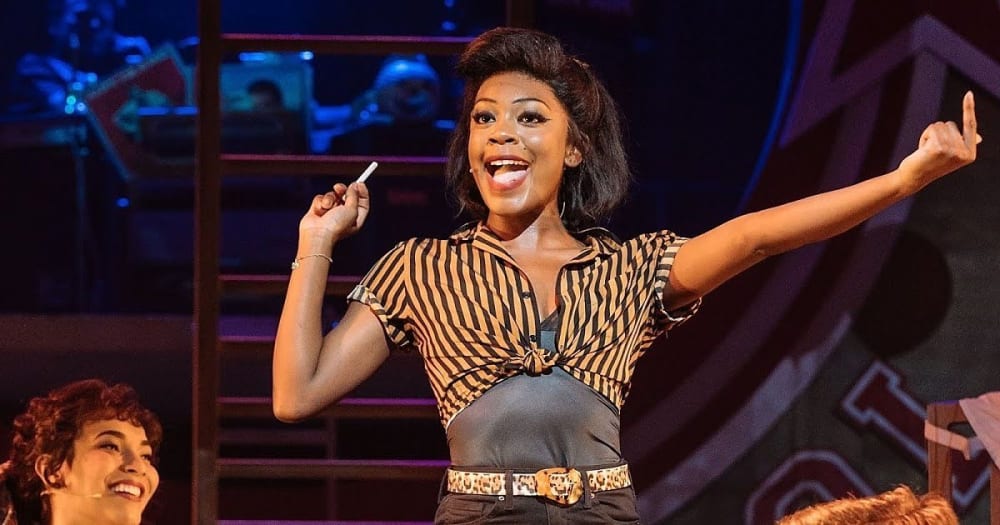 Despite having no recollection of ever sat through the 1979 film of Grease in its entirety, I seem somehow to have picked up an intimate knowledge of the ins and out of the plot and characters. Of course, the American high school has long been a favourite setting for stories in all genres, since we can all, for some reason, relate to the extent to which our lives are defined by our traumatic teenage years.
This new touring version, developed at Leicester's Curve Theatre, takes its inspiration as much from the 1971 stage musical, apparently a gritty exploration of its authors' lives in 1950s Chicago, as from the hugely popular movie, reinstating some of the original songs and giving more time to the gang warfare theme.
The principal narrative, of course, involves Dan Partridge's Danny and Martha Kirby's Sandy, whom we first meet during a summer vacation romance. Weeks later, Danny returns to Rydell High School, only to discover that Sandy has just enrolled and that her presence endangers his "cool" status within his tough guy T-Birds crew. Meanwhile, former convent schoolgirl Sandy struggles to bond with a new group of bad girl acquaintances, primarily Betty Rizzo and her Pink Ladies.
Colin Richmond's set is dominated by structures resembling climbing frames and railings, perhaps reflecting the characters' sense of imprisonment within limited horizons, there being little sense of a world outside the school. The action is overseen from on high by local rock 'n' roll disc jockey Vince Fontaine, played by Darren Bennett, with knowing hints of the middle-aged sex pest.
The cast, many of them newcomers, is skilfully handled by director Nikolai Foster who ensures that the stage is often busy (sometimes a little too busy), such that the occasional solo moments are especially striking. The choreography, by the legendary Arlene Phillips, is vibrant and character-based, with unavoidable echoes of West Side Story.
The central pairing of Partridge and Kirby is suitably sweet, although Partridge fails to stand out sufficiently from the rest of his T-Birds. Both shine during their solo numbers, though, Kirby's "Hopelessly Devoted To You" being especially spine-tingling.
Amongst the talented supporting players, Rhianne-Louise McCaulsky is particularly strong, both vocally and dramatically, as the self-consciously trashy Rizzo; and Bennett makes the most of his comic turns both as the DJ and the dreamy Teen Angel. The car is also impressive.
Since Grease is a snapshot of life in and around Rydell High, it is perhaps inevitable that some of the plot points are either unresolved (e.g. Eloise Davies's Frenchy and her beauty school disaster) or wrapped up too neatly (e.g. Rizzo's pregnancy scare). The motivation behind Sandy's transformation from demure princess to spray-on-trouser-clad temptress remains unclear, however, as we stampede towards the show-ending singalong.
While not nearly as gritty as advertised—perhaps mercifully, given the presence of many innocent young ears amongst the audience—in respect of large-scale theatricality, the look, sound (with live band led by Steve Corley) and feel of this production is exemplary.
Reviewer: Othniel Smith