Grease The Musical
Jim Jacobs and Warren Casey
Colin Ingram for InTheatre, Donovan Mannato, William Sinclair, Hunter Arnold, Ricardo Marques and Araca and Curve
Curve Theatre, Leicester
–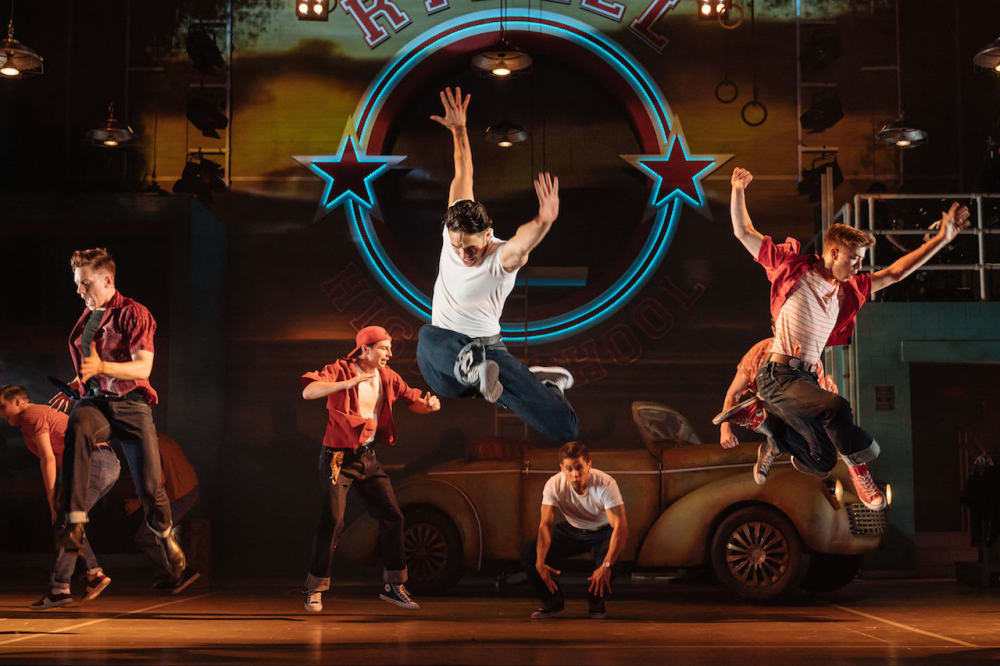 Well, I've certainly got chills. Now almost at the end of its UK and Ireland tour, this production of Grease The Musical lives up to its 'electrifyin' billing and I'm shocked and pleasantly surprised to note I enjoyed this much more than the hugely successful 1977 film version adored by many (including me).
Originally a Made at Curve production, director Nikolai Foster first tackled Grease the Musical in 2015, has since developed it further with producer Colin Ingram, re-cast and received fresh input from new members of the creative team. This includes breathtaking choreography by Arlene Phillips: intricate and inventive in fast-paced numbers such as "Hand Jive" and "We Go Together", as well as the stylised thrusts, tumbles and knockabout camaraderie of a group of hormonally charged teenagers.
A quick story re-cap: Danny (Dan Partridge) and Sandy (Martha Kirby) meet at the beach on holiday, fall in love but as summer ends, return to their lives thinking their romance was just a summer fling. Danny reverts back to his role of gang leader and greaser at Rydell High School, and what do you know but squeaky-clean Sandy starts at the same high school. What follows is a tug between being yourself, acting tough for your friends, or following your dreams—most of the main characters face a conflict whether it's bullying, fighting or relationship-related, but they come through in the end to make this a feel-good, fun musical with a well-meaning heart.
This is the first time I've felt Sandy doesn't let the sisterhood down by vamping up to get her man—in a supremely impressive professional debut, Kirby brings out Sandy's strength of character and the choices she makes are on her terms. Partridge is a smokin' hot Danny Zuko, torn between tough guy and tenderness, and the Danny / Sandy chemistry is real.
There's not a dud song in Jim Jacobs and Warren Casey's score, and some of the original stage musical numbers not given a spotlight in the film version now return (and all hail too to musical director Neil MacDonald and his band, perched high on the stage executing all the classic Grease numbers with aplomb).
These additional songs give the cast time to shine with some welcome character development. Ryan Anderson as Roger and Natalie Woods as Jan share an amusing and touching moment in "Mooning", and Jordan Abey as Doody ably leads the cast in the charming "Those Magic Changes".
Damian Buhagiar as Sonny Latieri is a tightly coiled spring of confused cocksurity, putting me in mind of a young Joe Pesci. Rhianne Louise-McCaulsky is an assured and aloof Rizzo, her vulnerabilities laid raw in "There Are Worse Things I Could Do". These are just a few high points; the whole cast combine like super-charged greased lightnin'—you really feel this gang are on the cusp of change, teetering on the brink of adulthood as rock 'n' roll reverberates and rebellion against the old ways takes hold.
This show is great fun: there's grit, grind and as the title song says, it's got groove, it's got meaning.
Reviewer: Sally Jack