Great Britain
Richard Bean
Lyttelton Theatre (National)
–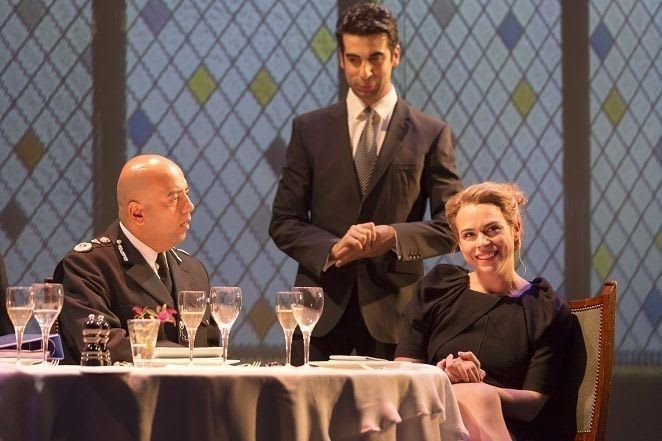 On the morning of Wednesday 25 June, the world was not aware that Richard Bean had written Great Britain. By the evening of Monday 30 June, the play had opened without previews and looks set to be a big hit.
Billie Piper excels in the role of the Dickensianly named Paige Britain, a newspaper journalist with the now-defunct Free Press tabloid, who might bring to mind any number of equivalents with phone hacking addictions, whose bosses have recently been making the news (and occupying the courts) an awful lot of late.
At times, this play is reminiscent of Sir David Hare's Absence of War Trilogy in that many of the targets are the same, though Bean can be considerably more vicious when he attacks.
In this imagined dystopian world, the police are corrupt, heartless journalists will do anything for a scoop, politicians fiddle their expenses and celebs behave both badly and stupidly.
The reason for the swift arrival of this biting satire might well be the ending of that court case, though whether anyone will identify Robert Glenister as a loud-mouthed newspaper editor who ends up advising the Prime Minister or Jo Dockery playing his successor who seems ignorant of her charges' criminal surveillance activities with characters from real (tabloid) life remains to be seen.
One imagines that the National's in-house legal team have been working overtime to see that nobody (for example most of the Royal Family) might misinterpret the fun and regard it as personal. While the humour surrounding those actually named is reasonably affectionate, others may think that they are being lampooned pseudonymously and considerably more vindictively.
Billie Piper holds the evening together as an ambitious power junkie who will do anything and sleep with anyone for the adrenalin rush of an exclusive, acting as our guide and narrator to boot.
The rest of a large cast largely play as an ensemble but several have their moments. The comedy usually hits its peak with the arrival of the Met's first Asian Commissioner, hilariously played as a complete dunderhead by Aaron Neil.
Iain Mitchell is good as ever playing Legend, the fall guy, while Robert Glenister and Dermot Crowley as Editor and Proprietor respectively also give memorable performances.
Tim Hatley's fluid modern design complements Sir Nicholas Hytner's deft direction to ensure that numerous scenes almost invisibly flow into each other, maintaining pace throughout a breathless evening.
Richard Bean has courted controversy before, particularly in England People Very Nice, and some might regard Great Britain as tasteless and gratuitously offensive, where others will regard it as a trenchant commentary on the decline of a once great country taken over by shady opportunists very much like Paige Britain.
Either party might well recognise that for much of the 2¾ hours running time, it is very funny, this playwright's trademark. It is also highly politically-charged with odd moments of great pathos, as we are obliged to witness the damage that our constant thirst for sleazy scandals can cause.
If you can live with the macho bad language and scandalous topicality, Great Britain should be the must-see arrival of the summer.
Reviewer: Philip Fisher