Great Britain
Richard Bean
National Theatre
Theatre Royal Haymarket
–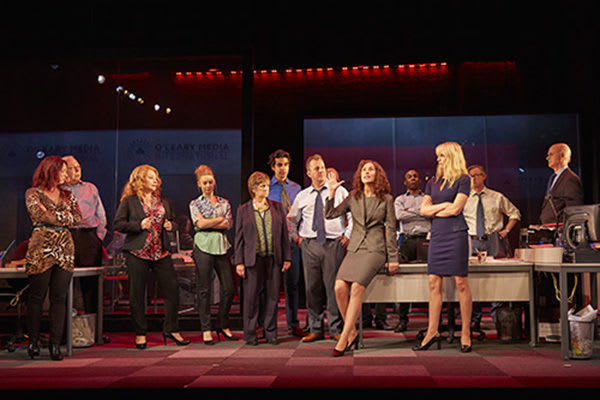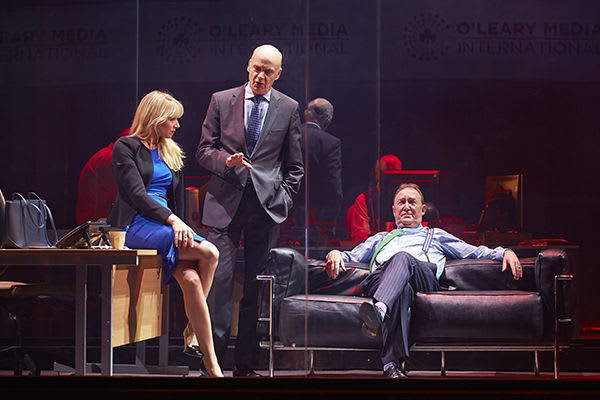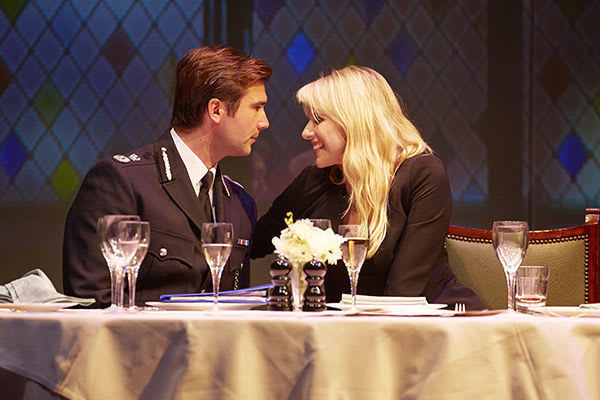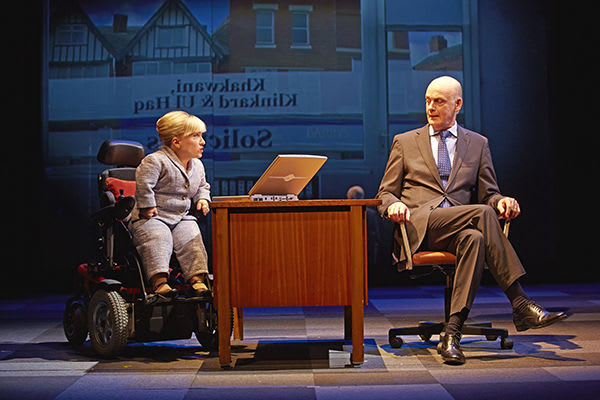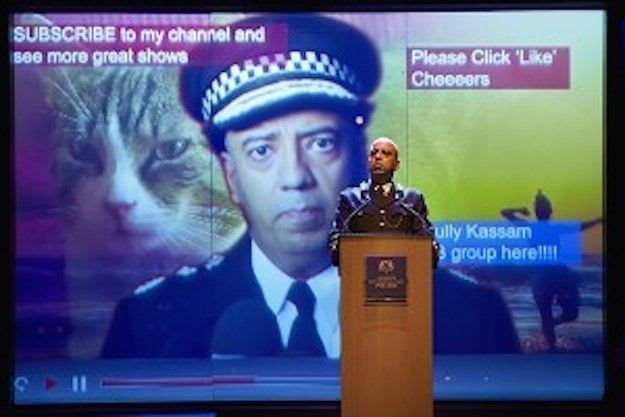 Great Britain was inspired by the News International phone-hacking scandal and created in secret to avoid any risk of prejudicing the trial of former Rupert Murdoch journalists on charges arising from it.
It premièred in the Lyttleton Theatre on June 30, almost immediately after trial verdicts were delivered, but, however closely it may sometimes echo real life, this is not a documentary and a very long way from a verbatim drama.
Now transferred to the Haymarket, with a couple of cast changes, it has lost a little of the shock value of its topicality but remains a hard-hitting, extremely clever satire and it is very funny, not least in the newspaper front pages, television clips and online tinkerings Nicholas Hytner's production offers in Tim Hatley's design and 59 Productions video contribution.
There is a lovely running gag with Scott Karim as an undercover reporter trying out a succession of outrageous disguises and some of the other characters seem similarly exaggerated cliché—though, with a couple of intentional and very funny exceptions, real-life evidence suggests that they are only too accurate.
Behind the laughter this is a shockingly sharp depiction of press, politicians, police—indeed most of the nation—all driven by personal greed and venality, not just for money but for power and position.
Robert Glenister gives a well-judged performance as the newspaper's foul-mouthed editor, explosive at morning news conferences, as crude as any fictional old Fleet Street cliché but never taking it too far for the context, then a subdued lost soul when kicked upstairs to the TV side of big mogul Paschal O'Leary's media empire.
Leary is played by Dermot Crowley, who makes him all too plausible and real in his arrogance and absence of ethics, with politicians and police in his pocket. He imports a new editor, Virginia White, from New York (Jo Dockery) who doesn't seem to quite know what's going on; her passion is horses. Another woman with her eye on that job, ambitious News Editor Paige Britain, knows exactly what's going on and who is responsible: herself in large part.
Lucy Punch now plays Paige (it was Billie Piper on the South Bank) with ruthlessness, which she sometimes wraps in sexy charm. Whether talking to her boss or confiding in the audience, there is no pretence. She is driven by getting the scoop; it doesn't matter how. With the help of a company called Spy Spy, she has found a way the others haven't got yet.
One of the show's early images is a blow-up newspaper front page with the headline "Is Your Vicar on Gaydar". Paige is all about exposure, especially, but not only, of politicians and celebrities. As she puts it "we go out there and destroy other people's lives on your behalf".
Punch plays her with such in-yer-face frankness that you almost like her, and it hits home when she reminds the audience that if their hacking of the phones of murdered twins had led to intervention that saved the lives, the public would have made those doing it heroes rather than condemning their actions.
There is excellent ensemble work from the whole team of journalists, but William Chubb as Garth Ellerington, Head of Finance, Mick Sampson as Howard Woolf, a more responsible old-style Features Editor, and Iain Mitchell, as smoothly public school Sports Chief Billy (Legend) Cain, all have their moments.
When it comes to the police, Richard Bean is savage. Ben Mansfield, as Assistant Commissioner Donald Doyle Davidson, gets to play the good guy—even when Paige sets out to seduce him. He tries to the right thing as well as cover up for his superior.
That's Commissioner Sully Kassam, a man who has dubbed himself "the Gay Terminator" and the Met's first Asian head man. He's inept and stupid and Aaron Neil is a hoot giving what may be this year's funniest performance.
It is not only the police whom Paige seduces. She manages to befriend the leader of the Conservative Party too (Rupert Vansittart).
The Free Press newspaper's actions help condemn an innocent man and cause his death, reveal royal juvenile misjudgement and expose MP expenses fraud among other revelations, but their treatment of celebrities is represented by their revealing TV star Stella Stone (Kellie Shirley) is dying of cancer (having signed her up, they want her death timed to match their copy deadline) and their hounding of cricketer Jasper Donald (Joseph Wilkins).
Wilkins sues them and Kiruna Stamell gives a spunky performance as is solicitor Wendy Klinkard—getting him a fortune and huge fees for herself as well. She is on the make; out to seize every opportunity to advantage just like the rest of this me-centred society.
That is Bean's Great Britain; do you recognize yourself?
Reviewer: Howard Loxton