Great Expectations
Charles Dickens
Vaudeville Theatre
From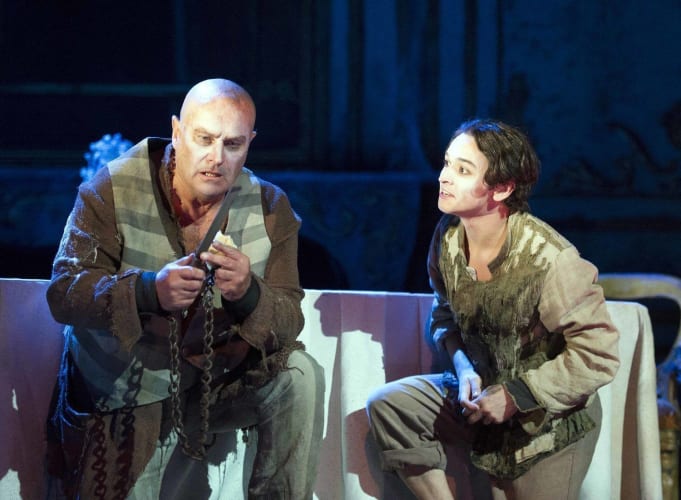 Great Expectations is a wonderful novel that became many films, including one (David Lean's starring Alec Guinness) which is rated by many as amongst the best movies ever. If the producers of this version are correct, it has never previously in over 150 years of life been adapted into a play, although Miss Havisham has had a good deal of stage time in various incarnations.
As such, anticipation was high for an exciting evening with all of the old favourites, Pip, Estella, Miss Havisham and Magwitch.
While all are present, Jo Clifford's vision of the play under the direction of Graham McLaren is to say the least unorthodox, turning the story into what is essentially a light comedy melodrama with minimal characterisation but sumptuous couture.
To start with, it uses only a single set, albeit a spectacular one. This features Miss Havisham's stately dining or reception room buried beneath decades of cobwebs. While this works well enough for some scenes, more variety is required for us to picture Dickens's ever-changing world.
Into this room are thrust manifold exchanges. Pip is seen in stereo, Taylor Jay-Davies as the growing boy mirrored by his older self, Paul Nivision providing intermittent narration.
The story is accompanied by strange images that are heavily influenced by Tim Burton movies to the extent that Paula Wilcox's strong, sexy, seductive (believe it or not) Miss Havisham is kitted out exactly like Helena Bonham Carter at her most eccentric.
Pip is bullied by the sister who has reluctantly taken in the orphan but offered succour by his brother-in-law Joe, played by Josh Elwell.
His salvation comes in the form of mad, old Miss H, the ultimate man-hater but with every reason, having been jilted at the altar. Here, he meets Grace Rowe's pretty ball-cruncher Estella and is smitten despite her efforts to warn him off. The tough slattern's motivations seem very modern feminist—guaranteed to make any boy unhappy.
He is suddenly plucked to riches and a series of meetings and partings with significant figures such as TV's Burnside, Chris Ellison, as the convict Magwitch but everything, even the moments of supposed solemnity are visualised like some mad dream.
Great Expectations must surely have the material to become a fine play. This attempt, which has toured extensively, looks good at times but misses the essence and depth of the original.
Reviewer: Philip Fisher