Great Moments in the Theatre
Benedict Nightingale
Oberon Books
Released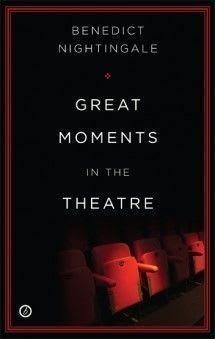 It was a sad day when Benedict Nightingale finally decided to hang up his laptop and retire from one of the most significant jobs in British theatre, as chief critic for The Times.
In retrospect, readers of Great Moments in the Theatre may be mildly thankful for that retirement, since this book may never have hit the bookshelves had the day job continued.
Nightingale is erudite, affable and has a deep knowledge and love of his subject. That becomes apparent early on in this delightful collection of essays.
All of the skills that made this elegant writer such a joy to read when he was reporting theatre on a daily basis have been brought to bear to illuminate well over 100 of the most significant theatrical moments in history.
While many of the experiences were enjoyed personally, even someone with the experience of Benedict Nightingale was probably not at the theatre of Dionysis to watch The Oresteia in April 458 BC, nor would he have seen Burbage as Hamlet in the original production back in 1601 or the première of Tartuffe 68 years later.
Those that purchase the book and begin to enjoy these reviews / reports could sometimes be fooled into believing that he really was present on every occasion, so vibrantly does this writer bring to life historic performances, riots, love, despair and joy.
In fact, around half of the pieces do relate to the Nightingale era on the way to and as a top critic and all of these are infused with his enthusiasm for a job that was clearly almost always a labour of love.
From this era, perhaps the choicest selections are the inevitable Look Back in Anger, Beyond the Fringe, The Romans in Britain, Noises Off and Simon Russell Beale's Hamlet. Others will inevitably disagree with their choice, which is part of the fun.
Each of the pieces is given around two pages of copy, giving space to set them in a political and historical context where appropriate, providing a brief synopsis of the subject matter, often providing a pen portrait of the playwright and his or her major works as well as explaining why the chosen plays and events were so important.
The writing is always smooth and readable, and it is great to have the chance to share the enjoyment of a man who knows so much about theatre and is able to convey his thoughts with remarkable clarity.
It has to be admitted that your own reviewer is a sucker for this kind of book but even of its type, Great Moments in the Theatre is a prime example and it should be on the reading and gift lists of everybody with any kind of love for the stage.
Reviewer: Philip Fisher