Great Dames
Created and performed by Christine Pedi
Jermyn Street Theatre
(2009)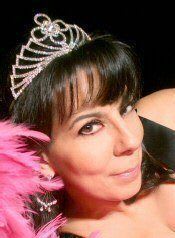 Great Dames is a one-woman show brought to us from across the Atlantic by award-winning Forbidden Broadway star Christine Pedi.
Ms Pedi's tribute to the doyennes of yesteryears' musical stage and screen is an entertaining evening and a must-see for fans of the likes of Ethel Merman, Liza Minnelli and Doris Day, though the Pedi treatment is also meted out to contemporary dames so there is also something here for those with more modern tastes such as Patti LuPone and Bernadette Peters.
There's no doubt that Ms Pedi has a warm regard for the performers she so readily lampoons but be warned that there's no room for sacred cows. With a sharp imitation of Julie Andrews from her days as "a functional soprano" you know that there is going to be a slash of wickedness behind some of this fun!
Ms Pedi is a strikingly versatile performer. As well as being a virtuoso impersonator - she has a repertoire of seventeen with which to populate Chicago - she is a talented singer in her own right and a genuinely funny and charming lady.
It's an evening of multiple highlights from the marvellously lustful and sleazy "When You're Good to Mama" balanced by an equally well-thought-out interpretation of "Stars and the Moon" showing that her material is as varied as the performers she imitates; we get matches made in heaven like "There's no Business Like Show Business" from an instantly recognisable Merman, a song about why Doris Day is a virgin and a mini-musical of Anna Karenina, as well as a hilarious "Take Me Out to the Ball Game" from La Streisand giving the buy me some peanuts and cracker jack her trademark intensity.
Like icing on a cake, we get snippets of other divas too: Eartha Kitt, Angela Lansbury, Judy Garland to name a few and, of course, peeps at Ms Pedi unmasked.
Matthew Ward is Ms Pedi's musical director and pianist. He's also a true craftsman whose arrangements are imaginative and skilled. For one number there are classical-inspired enhancements which are witty and musically enriching whilst for another he creates an Evita theme for an impersonation of LuPone singing Eliza Doolittle - both comical and clever.
This is cabaret fun with finesse.
"Great Dames" runs until Sunday 21st June with performances on
Tuesday to Saturday at 8.00pm and on Saturday and Sunday at 4.00pm
Reviewer: Sandra Giorgetti