Great Expectations
Charles Dickens, adapted for the stage by John Clifford
Northern Stage with Durham Gala Theatre
Theatre Royal, Winchester
(2006)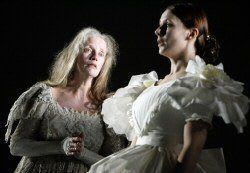 Estella, Charles Dickens's doughty heroine from Great Expectations, is not the woman I first thought her.
Neil Murray's production for Northern Stage, currently at Winchester Theatre Royal, has not confined research to the excellent narrative and the splendid ensemble-style of story- telling for which this company is noted.
Murray has unearthed the little known fact that Estella, the character played famously in the film by Jean Simmons and the late great Valerie Hobson (later to marry controversial Tory politician John Profumo who died last week), was actually based on a Newcastle actress Nelly Ternan with whom it is said Dickens had a long secret affair. It's a tale to rival Norwegian playwright Henrik Ibsen's Tyrolean affair with the young Viennese girl Emily Bardach the inspiration for Hilda Wangel in Master Builder.
It's a piece of gossip fitting for a narrative which has always carried the weight of real scandal both on page and screen.
And this Northern Stage account produces at one and the same time both beauty of language and verisimilitude. From the early shock of Pip's encounter with the frightening Magwitch to the tragedy on the Thames, this production contains some of the most colourful Dickens narrative as well as all the realism for which the author is renowned.
We feel, though in the theatre cannot see, the flinching in Joe Gargery's eyes as Rebecca Hollingsworth, a slight but formidable Mrs Joe, whips the young Pip (Peter Peverley) after his excursion onto the marshes, here translated from Essex to the bleak Northumbrian coast. A formidable Magwitch is supplied by the burly Mark Lloyd, while Murray's settings draw their appeal from use of plain tables for platforms and a menacing sky cyclorama that is about right for this time of year in England.
Mark Calvert is a solid, amiable Joe and other characters of note stirring older recollections of David Lean's 1947 classic, include Sue Maund, a touching Miss Havisham worthy of the role immortalised by Martita Hunt, Rachel Dale, as the kind-hearted Biddy; Tony Neilson as legal factotum Wemmick and Jack Power, a forceful successor to Francis L. Sullivan as Jaggers.
With the exception of those stories captured by the musical theatre, Great Expectations rates as Dickens's most popular tale and Leans' account even today stands as the favourite Dickens film. All the more remarkable, then, that Neil Murray should have revived it for the stage so memorably.
This production must impress both new audiences meeting the characters for the first time and those of us for whom they signalled our emergence as young Dickensian more than fifty years ago!
The production visits Newbury Corn Exchange from 29 March – 1 April and the Lighthouse Arts Centre, Poole, from 11- 15 April
Wayne Miller reviewed the original production at the Journal Tyne Theatre, newcastle, and Peter Lathan reviewed the beginning of the tour at the Gale, Durham
Reviewer: Kevin Catchpole