Great Expectations
Charles Dickens, adapted by John Clifford
Northern Stage
Journal Tyne Theatre
(2005)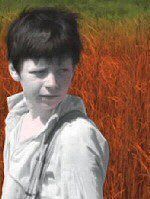 With Northern Stage being the premier theatre company in the North East you have great expectations of the work they produce. Even though their newest production isn't an original piece, expectations are still high.
This adaptation has kept the dark atmosphere but fails to keep the passion and charm of the original. People not familiar with the Dickens' tale may struggle to understand the relationships and follow the plot of this stodgy reworking of the classic story.
Great Expectations features an impressive cast with Mark Calvert (Joe) and Peter Peverley (Young Pip) giving outstanding performances. Not one cast member fails to perform with confidence and energy, but not even the best of the best could have given enough life to a dry and slow script.
As ever with Northern Stage the production value is a star of its own. The design by Neil Murray is both stunning and dark, giving the audience a visual treat. However his use of audio-visual effects does nothing for me, as most of the visual projections are of sequences that can easily be done on stage to the same effect if not better.
Also on directing duty, Neil Murray makes good use of his stage and his actors creating some great and grand set pieces. His use of his actors to create theatre tricks and magic like a human washing line shows he is a director that does and will continue to impress.
If what you want a visual treat featuring some skilled actors then this is for you. If you desire something that is deep and powerful, then give this a miss as your expectations may be too high!
Peter Lathan reviewed this production at the start of its national tour at the Gala Theatre, Durham, and it was again reviewed by Kevin Catchpole towards the end of the tour, at the Winchester Theatre Royal
Reviewer: Wayne Miller