Greta Garbo Came to Donegal
Frank McGuinness
Tricycle Theatre, Kilburn
(2010)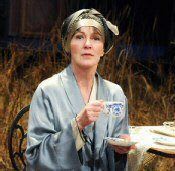 "I want to be alone." Although Greta Garbo does not utter the phrase by which she is best known at any point during the evening, it is the underlying theme of this beautifully constructed, bittersweet comedy.
There is also an allegorical dimension, as, to Ireland, 1967, just before the start of the most recent Troubles, has the same impact as 1913 in so many European works of every genre.
In many ways, Greta Garbo Came to Donegal is a typical family drama of the kind favoured by so many Irish playwrights. The Hennessys are an eccentric, unhappy family who have drunk and wasted away their wealth to the point where the sizeable family home has been sold to a gay English aristocrat and they have become his servants.
Sir Matthew Dover, played by Daniel Gerroll, is an artist who is rather too keen to lord it over the servants and that includes his cockney prize-fighter lover, Tom McKay's Harry.
Sylvia and James Hennessy (Angeline Ball and Owen McDonnell) do little but fight and bemoan their lot. The sense in this family clearly lies in James's sister Paulie, played with great sensitivity by Michelle Fairley, and their daughter Collette, who seems to have inherited family brains that must have skipped a generation or two.
Lisa Diveney makes a good fist of her role as a lonely teenager awaiting exam results with every hope of achieving an ambition to become a doctor in the fullness of time. She has a lot to put up with, everything from prancing naked Englishmen to family quarrels and her own insecurities.
This combination would make a good play but Frank McGuinness has a secret up his sleeve in the person of the ironic Caroline Lagerfelt, a Broadway regular playing the New York-based Swedish screen goddess of the title. In her early 60s, Greta Garbo may not quite have had the looks that made her rich. Even so, her self-possession and sometimes cruel pearls of wisdom mark the lady out as one in a million.
The former film star's presence has a dramatic effect on all of the inhabitants of this house located at the northernmost point of Ireland, conveyed in a nice impressionistic setting by designer Robert Jones.
In many ways, little happens during the 2½ hours but boiling below the surface are shocking emotions. The bitterness with which the Hennessys attack each other might be an Irish trait but could easily be universal and at some points is almost terrifying to watch. You really fear that a death might occur but are never quite sure who will be killer or victim.
Repeatedly, the actors, under the skilled direction of Nicolas Kent who has impressively managed to secure the world premiere, are forced to bare their characters' souls and rawness shows through great pain as, one by one, their minimal hopes are dashed.
It comes as a real surprise that a play that promised the most depressing of endings is given something of a hopeful twist as at least some of the characters come to recognise what it will take for them to escape the drudgery of dull lives.
As its title suggests that it might be, Greta Garbo Came to Donegal is a rather quirky play but well worth a visit unless you come from a similarly unstable family, in which case it might feel a little too close to home.
Playing until the 20 February
Reviewer: Philip Fisher