Groove On Down The Road
Writer/director/choreographer Kate Prince
ZooNation Youth Company (ZYC)
Queen Elizabeth Hall, Southbank Centre
–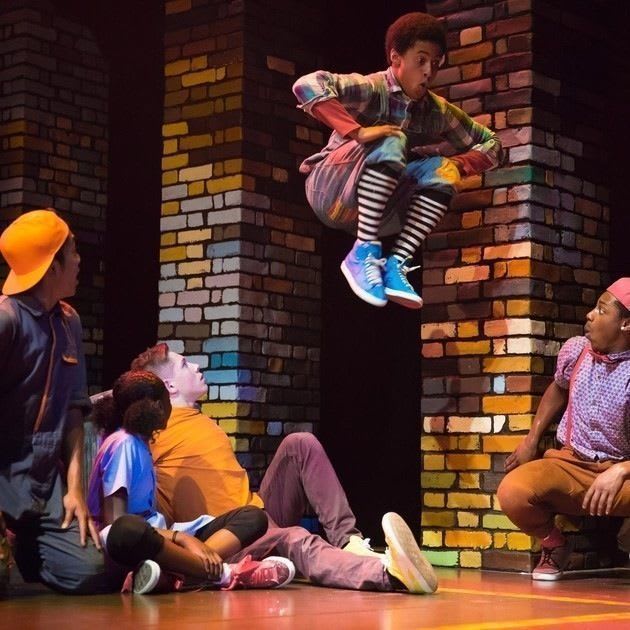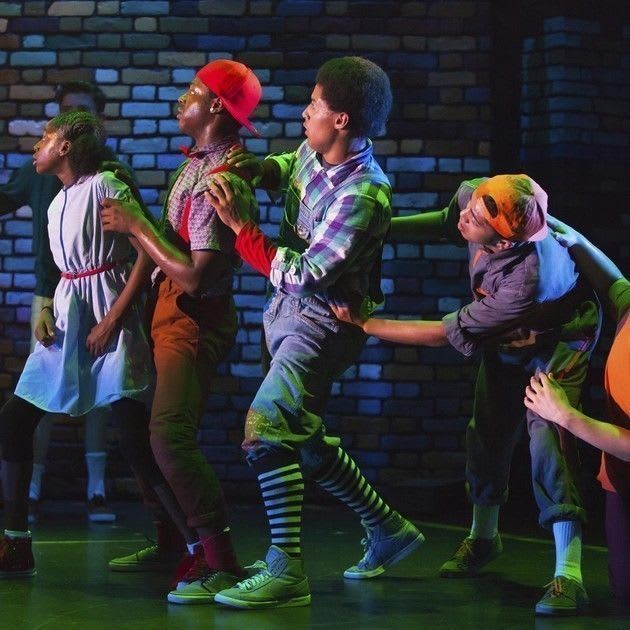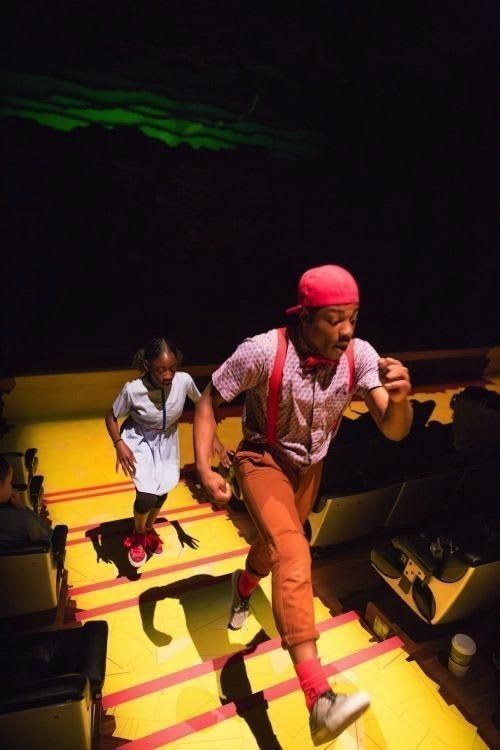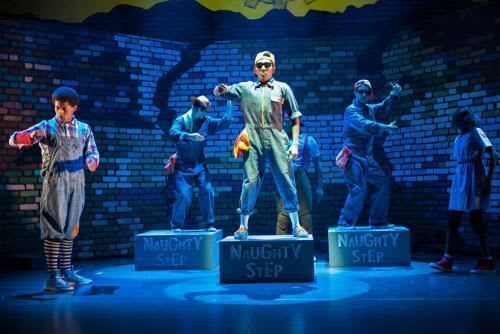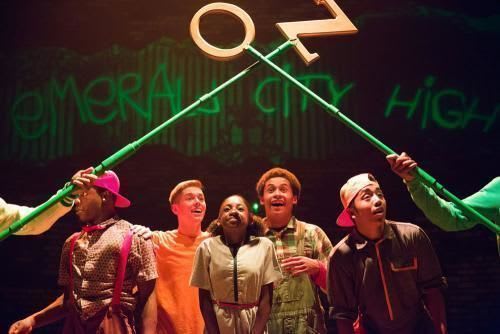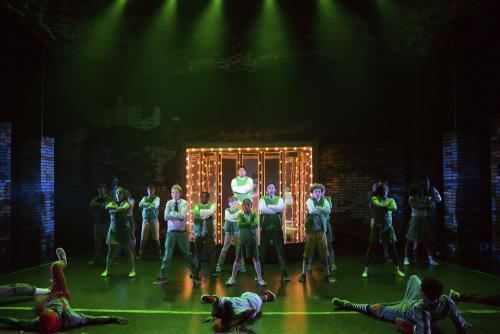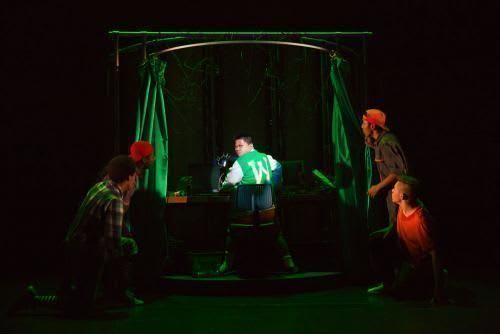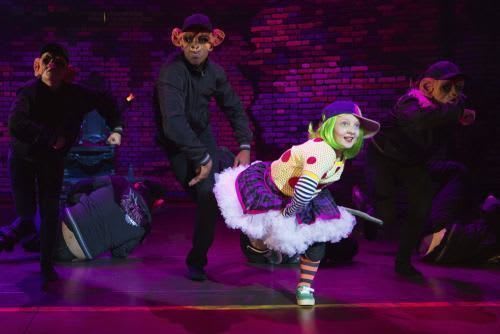 I missed the première of Kate Prince's Groove On Down The Road last year. I missed out big time. Well, I've caught up with it and what a treat—a show with a heart and a brain, funny, happy, inclusive ('make as much noise as you like'), one for all ages from five up—high fives all round.
It returns to its commissioning home for a second year as part of the Southbank Centre's Festival of Love. Outside, the riverside is buzzing, a storm is on the way, inside it is has already arrived.
You won't be able to sit still to music by DJ Walde, Michael Jackson, Stevie Wonder, Justin Timberlake, Janet Jackson, José González, Janelle Monáe and Miguel, to songs including the tracks Ease On Down The Road and You Can't Win from the 1978 film The Wiz.
Remember school days, classroom torpor, suppressed energy levels, disaffection, disruption—this is Dorothy's school and the road ahead is paved with blank yellow note pad sheets.
And daydreams. Via some miraculous wishful thinking and a pair of ruby red sneakers Dorothy (sweet Portia Oti) and Toto (a positively fizzing off-the-leash Michael McNeish) get out and follow those lined yellow sheets to the Land of Oz.
En route, they meet the bullied Scarecrow (gorgeous Jaih Betote Dipito Akwa), the class dunce, hanging off a school cloakroom peg being harangued by six Black Crows. 'If I only had a brain…'
The threesome encounters three Mechanics standing on the Naughty Step, joints bored stiff. A bit of oil from the Can of Compassion and the Tin Man (Michael Ureta) krumps and jumps with the rest of them. 'If I only had a heart…'
Curly mop-haired timid geek (Tom Stratford) is found in a rubbish bin, Grrr! Boo! chalked up behind him. 'If only I had some courage…'
Our intrepid seekers' odyssey is almost derailed by the Poppy Girls—the Land of the Lotus Eaters—by sixties psychedelia (Andrew Murrell's lighting comes into its own here), but Dorothy is a sensible girl.
Of course they make it to Emerald City High—I'm guessing private academy—only to find that the large Wizard is a front man for the little one on the computer consoles in the back.
The Wizard sets our motley crew a task, not an easy one, but they are a team and they come through. They steal the Wicked Witch of the West's (a punchy Annie Edwards) broomstick from under the noses of her Flying Monkeys security guards.
A battle between good and evil is never simple, but you have to fight for what's right. With guts and the help of a fire extinguisher.
Back in class Dorothy uses her piece of yellow paper to write a poem to her teacher—a version of W B Yeats's Tread Softly poem—The Cloths of Heaven.
What are these trampled dreams? Dorothy hands out musical instruments, musical scores, painters' easels, dressmakers' dummies, ballet shoes, cameras, and rainbow coloured bolts of cloth. Go for it!
And ZooNation Youth Company's cast of some thirty youngsters from age ten (yes ten) to nineteen do just that on a humid night for seventy-five minutes with no interval. I could have taken a longer show with an interval.
What performers (double and triple cast), what presence, what delivery, the energy level is stratospheric. We are looking at the next Tommy Franzén, Teneisha Bonner, Duwane Taylor.
Irresistible dancing routines, backflips and somersaults, on stage and in the aisles, in colours that sing and zing, Ben Stones's costumes and vivid set backed by Andrzej Goulding's telling graffiti projection designs.
An honest show, not twee or patronising, flying the flag for diversity and creativity—let the dreamers dream, don't try to put them in tidy boxes. And with teamwork and collaboration you can move mountains.
Kate Prince has much to be proud of: her award-winning ZooNation, founded in 2002, has gone from strength to strength. Now she had a feeder youth group. And has made hip-hop dance narrative theatre part of the mainstream.
"I'm incredibly proud to work with the talented children and teenagers in ZooNation Youth Company who come together from all over the UK, including Stoke, London, Manchester, Oxford and Brighton and bring their boundless energy and extraordinary skills to every performance.
"We already have one cast member who saw the show last year and was inspired to audition, and our goal is to encourage a whole new generation of children to explore how dance, passion, love and friendship can change their lives."
Reviewer: Vera Liber