Grounded
George Brant
Gate
Traverse Theatre
–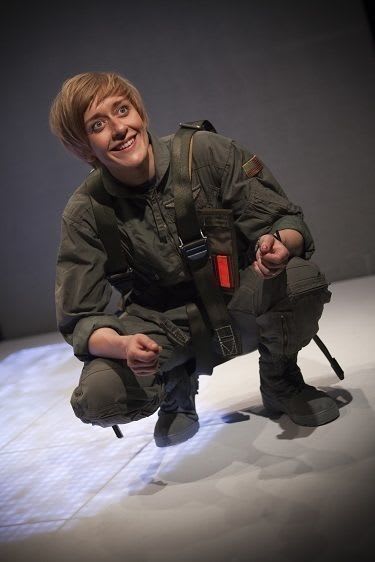 Under the direction of Christopher Haydon, Lucy Ellinson provides a rousing performance as The (anonymous) Pilot, a macho American fighter pilot who loses her wings after falling pregnant.
Symbolically trapped in a cube for 70 minutes, the actress portrays a woman who struggles to combine maternal instincts with the violent side of her personality.
After three years of motherhood, along with husband and infant daughter, The Pilot moves to Las Vegas and re-joins the good guys in the War on Terror.
However, even this short period has changed the game. Now, rather than flying an F16 jet, The Pilot has become a member of what she rather insultingly refers to as the "Chair Force" guiding an unmanned drone that flies over the desert in the name of freedom 24/7.
To all intents and purposes, she has become a video games professional, though the stakes are rather higher than those for Pacman or even the card games that her long-suffering husband Eric oversees in his role as a dealer in a high rolling casino.
What seems like a dull occupation becomes more enticing as men of military age appear out of the desert sands and provide target practice.
In Grounded, George Brant attempts to explore the stresses that a war, even lived second-hand, can place on a young mother. By extension, he also comments on US foreign policy in the Gulf, in an intense solo that will be remembered for the breathless energy of Miss Ellinson.
Reviewer: Philip Fisher