GSOH "Would Like to Meet"
Arthur McKenzie
In association with ditch or date
Customs House, South Shields
–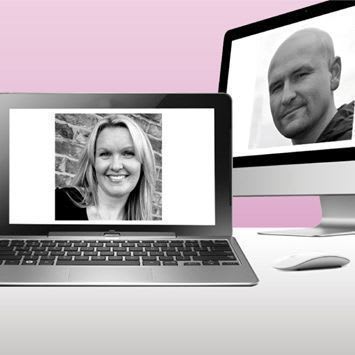 The Studio at the Customs House has become something of a crucible of new North East writing recently. Last week it was poet and playwright Sean Burn's Collector of Tears which premièred in the space and this week playwright and screenwriter Arthur McKenzie gives us the first performances of GSOH "Would Like to Meet".
The title tells us all we need to know: the two characters, Della (Sarah Martin) and Guy (Steve Wraith), are in the world of dating, through newspaper ads, speed dating events and the Internet. Guy is getting himself ready, trying various outfits, and Della, a part-time actress and part-time supply teacher, is sitting in a hotel toilet waiting for an audition.
In a series of monologues directed straight to the audience, they talk of their dating expectations and experiences. We gather they have been in contact—through an ad in the Evening Chronicle—and we wonder what will happen when they meet. Will they find true love?
No. No spoilers here. That's all I'm going to say about the story.
In fact, it's the characters rather than the story which are central to the piece. Although McKenzie is probably best known as a writer for film (Harrigan) and TV (The Bill, Casualty), his plays are often based on people he met during his career as a police officer in Newcastle—take a look at my interview with him where he talks about the people who were the inspiration behind his play Taakin' Heeds, performed at Durham's Gala Theatre in July 2006.
GSOH is billed as a comedy and so it is, partly, but, like the best comedies, it is built on real characters with their strengths and weaknesses, their insecurities and their ways of dealing with them. And our reactions to them are as complex as the characters themselves, for they are complex with their attractive and unattractive traits. We are amused by them, at times to the extent of laughing out loud, but there are times when we get impatient—and even annoyed—with them, just like we do with people in real life.
In the 75 or so minutes of the play, Martin and Wraith, under the direction of Michael McNally, bring their characters to full life and we come away with a better understanding of these two flawed but not unsympathetic people.
Reviewer: Peter Lathan