Guantanamo Baywatch
Justin Butcher
New Players Theatre
(2004)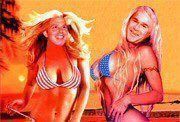 It seems as if there is rarely a week that goes by without some satire on the War on Terror. For whatever reason, most fail to lampoon what should be easy targets. The shining exception is Justin Butcher.
After a false start when the theatre in Edinburgh that was to house Guantanamo Baywatch failed, the last play in the George Dubya Trilogy has finally made it to the stage.
The plot follows the Dubyas and Blears, with Rupert Mason's sinister Donald Rumsfeld, and thonged Arnie on their holidays in Guantanamo (Guacamole to chimp-like Dubya). While there, they encounter British Muslim prisoners, sadistic soldiers and a favourite songstress from earlier plays, Yasmina the Cleaner, played with real enthusiasm and a belt of bombs by Gemma Larke
The action is non-stop and, following Dr Strangelove and An Inspector Calls, Guantanamo Baywatch is loosely based on Alice (Laura Bush) in Wonderland.
This musical comedy has 100 or more artistic influences, everything from the Bible and Shakespeare (a very funny spoof of the wall scene in A Midsummer Night's Dream) through Cole Porter and Cliff Richard to Good Morning Vietnam and Wonderbra adverts.
Butcher is always willing to experiment and, far more often than not, he manages to get a laugh or make a serious political point.
The New Players Theatre is now housing the three plays in a rather complicated rep. For devotees, it is possible to see the whole series back-to-back on Thursdays and Saturdays.
This is some of the best political satire around. It is incisive, funny and thought-provoking. If you are interested in the isues surrounding the War on Terror or just want a good laugh, don't miss it.
The other two plays in the Trilogy are The Madness of George Dubya and A Weapons Inspector Calls.
Reviewer: Philip Fisher