Guy Masterson: Love and Canine Integration
Guy Masterson
Theatre Tours Internatonal
Assembly Roxy
–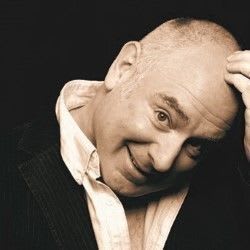 Instead of a straight play, Edinburgh favourite Guy Masterson is supplementing his solo Shylock with what can only be described as a shaggy dog story.
It involves two primary characters, his wife Brigitta and her dog, Nelson, though a pair of daughters appear along the way.
The early stages describe how Guy fell for the Franco-German model and a photo provides adequate support for his proposition that she looks irresistible.
The smitten actor's problem was that the lady of his dreams came with a dog attached. The other photo acting as a backdrop suggests that Nelson was also seriously cute. He also bit and defecated with alacrity, driving his new master to distraction.
Whether the story is true or invented, it is amusing enough to attract both those in thrall to canines and people who would happily rid the world of such "pests". It almost goes without saying that the acting is a treat.
Reviewer: Philip Fisher