Guys and Dolls
A musical fable of Broadway, based on Damon Runyan's stories with music and lyrics by Frank Loesser, book by Swerling and Burrows
A Salisbury Playhouse co-production with Clwyd Theatr Cymru and New Wolsey Theatre, Ipswich
Salisbury Playhouse
(2011)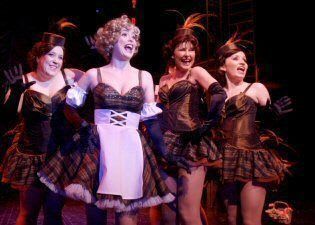 If ever a city was right for a new staging of the musical fable of Broadway, Guys and Dolls, it is Salisbury where some 130 years ago the seeds of the first Salvation Army Band were sown.
For in this city lived a music man, Charles Fry, and his three talented teenage sons. Hearing the call to mission and General William Booth, they sold up their family business and set off for Whitechapel to establish the first staff band. And the modern musicians assembled for this excellent reworking of the 50s show based on Damon Runyon's tales with music and lyrics by Frank Loesser and book by Swerling and Burrows are no slouches when it comes to syncopation.
Guys and Dolls is in essence a doppelganger for the late 19th century musical by Morton and Kerker, The Belle of New York, in which Salvation Army girl Violet (the redoubtable Edna May) reforms a spendthrift New Yorker. A relative failure on Broadway, The Belle of New York ran for 674 performances in the West End, with regular revivals and amateur operatic productions, including Salisbury in 1946.
This bright new account directed by Peter Rowe, who ran theatres in Chester and Liverpool before arriving at the New Wolsey in Ipswich, is sparking with brilliant brass and comical mayhem.
Musical direction is on stage by Greg Palmer, young veteran of 100 productions, his most recent including the stage version of Some Like It Hot.
The hoodlums enter in gloom, point at us all menacingly with the words, "Dese are de guys" before opening their gun cases to reveal instruments! Immediately the show is well and truly on the road with a pulsating overture anticipating the plethora of melodies in store...
Libby Watson's streets of the Big Apple fill the stage with brash neon colour and tall buildings, splendidly aided by the imaginative lighting of Nick Richings - and now the cast of 22 actor-musicians cram in more sound than has been heard in this small (520 seats) theatre for several years - six years to be precise.
Some may even find the decibels rather too severe - yet such is the artistic virility of this production that nothing is too much.
Small-time gambler Nathan Detroit is a neat performance by Ben Fox which sets the tone for the rest of his hoodlum associates. Dominating him vocally and physically is the splendid Rosie Jenkins as Miss Adelaide, his girlfriend of fourteen summers and some fictional children. Her numbers, not least "A person can develop a cold", are a treat.
Yet no-one upstages the delightfully silver voiced Laura Pitt-Pulford as this show's mission heroine, Sgt Sarah Brown. Her voice ranges easily from smooth soprano of "I'll know when my love comes along" to the more raunchy "If I were a bell".
When Sky Masterson hits town in the person of Robbie Scotcher - imaginative casting this, giving us a truly credible gangland hero with a beautifully versatile voice - the real gamble is on as he bets Nathan he'll take the pretty missioner on a date to Havana.
Which sets up the scintillatingly sexy night club scene, fired by Bacardi, in which Francesca Jayne's dazzling choreography fills the stage. Here, too, the musical actors are in their element.
The colour of the score is perhaps the great feature of this production, strident brass one moment, tender flute the next. Other highlights are the fine trombone of Christopher Fry, some soulful clarinet work and a delicate guitar.
The mean side of the law is almost menacingly personified by Nick Lashbrook as Officer Brannigan and there is another "almost" achievement of the Chicago gangster Big Jule (Paul Kissaun) who never quite convinces us of his fearsomeness. But isn't that the sum total of them all?
Scotcher and Pitt-Pulford delight the full house with their duet "I've never been in love before" and Johnson Willis duly delivers a fine, and very moving "More I cannot wish you" and Scotcher comes up with a fine "Luck be a lady".
But it is left to Gavin Spokes, who, having shown his mettle in the early title song, finally brings the house down - and us all to out feet - with the great setpiece "Sit down, you're rockin the boat".
So special in that super blockbuster is the brilliant chorus work featuring a thrilling descant by the General herself, Susannah Van Den Berg.
"Rockin the boat"? Guys and Dolls is the antidote to all our financial troubles!
"Guys and Dolls" continues at Salisbury Playhouse until Saturday 21st May.
Reviewer: Kevin Catchpole