Gypsy - a musical fable
Book by Arthur Laurents, music by Jule Styne, lyrics by Stephen Sondheim, suggested by the memoirs of Gypsy Rose Lee
Chichester Festival Theatre
Chichester Festival Theatre
–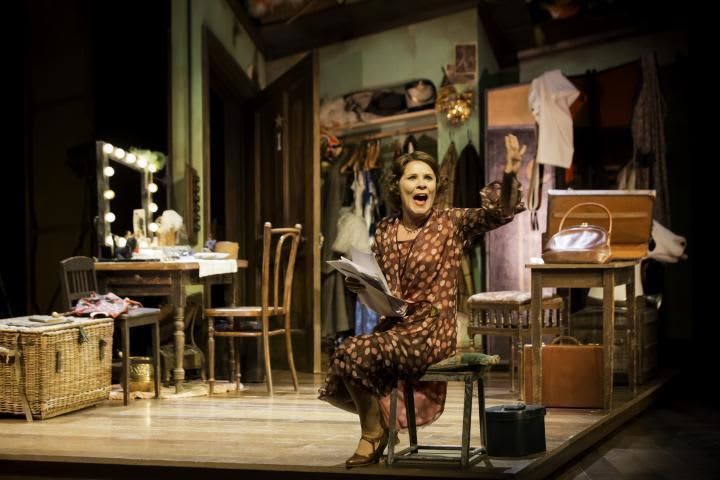 Musical director and orchestrator Nicholas Skilbeck conducts his orchestra in a lively, uplifting and beautifully orchestrated extended overture which starts the show on a high, finishing just as Imelda Staunton's Momma Rose storms onto the stage where an audition for young talent is trying to take place.
Unceremoniously dumping her little terrier into the arms of any handy person, she proceeds to take over the proceedings, making sure that nobody gets in the way of her little darlings who are 'going to be stars'. Correction—it is the youngest, Baby June, who will be the star with her older, less-talented and plainer sister being overlooked.
There is 'star' promise for sure in Georgia Pemberton's performance as the rubber-limbed, precocious June in a virtuoso song and dance routine, "Let Me Entertain You", which almost brought the house down with cheers, applause and laughter.
Momma Rose is following a dream, a dream she once had for herself, and nothing is going to stop her this time. She totally ignores the fact that the girls are growing up. They have to remain her 'babies' dependent on her, but in one dance routine we see 'June and her Boys' grow older (and larger) before our eyes, with the help of strobe lighting and a little stage magic.
Anthony Ward's set brings to life the seediness and often squalor of a vaudeville which was slowly dying out, with stage, dressing room and a boarding house sliding unobtrusively and silently into position, everything in the newly refurbished Festival Theatre working perfectly.
Staunton is absolutely magnificent as Momma Rose, the archetypal stage mother—and then some. A crucial role to cast and Staunton is simply the best. She is everywhere at once organising, arguing, promising and interfering and talking non-stop—except when she stops to sing—and can she belt out a tune with bringing out all the meaning.
With emotion in this show ranging from obsessional optimism to total depression, it's no mean feat to cover it all. Jonathan Kent directed Staunton in the hugely successful Sweeney Todd, and the partnership again works perfectly, with Kevin Whately giving sympathetic support as the long-suffering agent and possible husband Herbie.
The show is packed full of memorable songs, and Stephen Mear's choreography is always a joy to watch. He totally lives up to expectations here with some terrific dance and tap routines. Particularly beautiful is a solo danced and sung by Dan Burton as Tulsa to "All I need is The Girl". Pity he then elopes with a now 15-year-old June, which almost breaks her mother's heart—and her plans for the future.
Now it is the turn of Lara Pulver as Louise—Momma has no one else left, and the only answer is burlesque, where strippers Anita Louise Combe, Louise Gold and Julie Legrand demonstrate that you have to have a 'gimmick' if you are going to succeed, each giving examples. Well that you have to see.
Louise, now Gypsy Rose Lee, is still following Momma's instructions and her gimmick is to be refined and ladylike as she elegantly strips off no more that a glove, but that is only the beginning for her, and maybe the end for Rose.
A hit for Chichester once again. No question about it.
Reviewer: Sheila Connor